The turning of the seasons is the perfect time to embrace change, and no season is more change-friendly than fall! One of my favorite times to redecorate my home is when autumn rolls around, but the number of ways to decorate often leaves me paralyzed at the start of the season. How can you possibly narrow down the choices?
Thankfully, I sat down this year to do exactly that. Here's a list of my favorite fall decorating ideas!
---
Pumpkin Palooza
Of course, the first thing that often comes to mind in regards to fall decorating ideas is an abundance of pumpkins. Pumpkin art, pumpkin candles, pumpkin sculptures…pumpkin décor comes in all shapes, sizes, and forms, and it's impossible to walk through the autumn décor section of any store without spotting pumpkins on every corner.
Personally, my favorite way to utilize pumpkins in your fall decorating ideas is to scatter different ones around your space. My favorites are cloth-covered mini pumpkins that you can place on your table, your bookshelves, your nightstand, or any other surface you'd like to add a dash of autumn flair to.
---
Candy Cartons
Of course, autumn is the season for Halloween fun, but it doesn't have to be Halloween for you to indulge your sweet tooth.
You can scatter candy dishes around the house before, during, or after the spooky kickoff to the holiday season, and you can choose Halloween-themed or fall-themed dishes depending on how enthusiastic you are about spooky season.
Sweet treats are a year-long pleasure, and I personally like to have candy dishes all throughout; I just swap the dishes themselves out with each change of the season.
Depending on your preferences, you can also swap out the candy to better reflect the seasonal flavors; for this fall decorating idea, I like to fill my candy dishes with caramels or sour candy!
---
Creative Coasters
With the fall chill comes plenty of hot drinks, and maybe some cold hard cider or iced pumpkin coffee. However, with warm drinks comes the risk of spills and rings left behind on the table; with cold drinks, you have condensation to contend with. That's where coasters come in!
You can absolutely pick up some cute coasters from the store; it's not too hard to find fall-themed or otherwise aesthetic-matching coasters in just about any store that carries coasters.
But if you want to get creative and crafty with your fall decorating ideas, you can invest in some craft supplies and get to work making your own!
---
Coffee Cart
Like I said, fall brings a craving for hot drinks, and none of them are more popular than coffee. The pumpkin spice latte has jostled its way into top spot for coffee drinks associated with fall, and that association doesn't stop at fall decorating ideas!
A coffee cart is a great way to work this classic coffee craving into your fall decorating ideas. You can deck out a cart with coffee mugs, coffee syrups, a coffee maker (of course), and other ingredients to create the best-tasting mug of comfort coffee you've ever had in your life.
Plus, a coffee cart is easy to decorate with those coasters you made, or some of those mini pumpkin decorations I talked about earlier!
---
Harvest Hay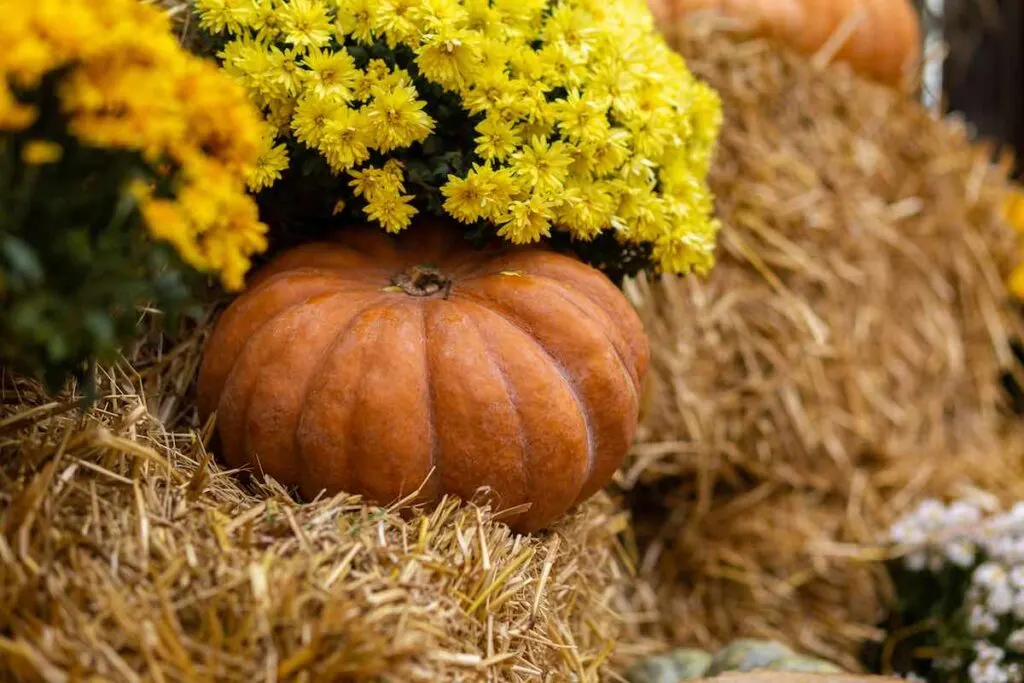 Of course, indoor fall decorating ideas aren't the only thing to consider this season; you also have a porch and a yard to deck out! One of the easiest and cheapest ways to get your outdoor space in the proper spirit is by stacking some hay bales on the porch.
You can leave these as-is, use them as a platform for your jack-o-lanterns (or regular pumpkins if Halloween has passed), or make them the perfect seat for a friendly neighborhood scarecrow!
---
Baking Bar
Similar to the coffee cart, another fun fall decorating idea I loved setting up this year was a baking bar!
You can actually use the same cart as you would use for a coffee setup, but instead of a coffee maker and coffee paraphernalia, you'll set up a mixer, containers of ingredients, rolling pins, cookie cutters, cookbooks, and any other baking supplies you might want at the ready for your autumn baking endeavors this year!
This is an especially great fall decorating idea to set up just before Thanksgiving, as you'll probably need a convenient place to center your pie baking. After all, the kitchen can be a chaotic place during the holidays, so having a dedicated center of operations for your baked goods will be a great stress reducer.
It will also ensure that you don't need to go digging in all your cabinets to track down the ingredients you need.
---
Autumn Art
One of the most common fall decorating ideas? Autumn-themed art! From harvest-themed sayings to nature-themed paintings, you can track down whatever art best fits your home and your vibe. I like to have art on hand for every season, because it makes it easy to swap pieces out without having to track down new places to hang them.
---
Holiday Home
Halloween and Thanksgiving are neatly arranged into October and November, the majority of the fall season, which allows you to decorate based on both holidays throughout the season if you'd like!
You can start throwing up your spooky season stuff around September if you're really eager to get started, and as soon as Halloween has passed, you can swap it all out for a Thanksgiving theme instead.
This might require a bit more work, as you'll have to redecorate more than once, but it can be extra fun to embrace the upcoming holidays as you're working to change up the inside of your home!
---
Cuddle-worthy Couch
Your furniture is a great place to expand your fall decorating ideas, especially your couch, as it has the most area to decorate! You can pile pillows, blankets, and any other cozy items you might like onto your couch to allow guests to make themselves comfortable.
I know I want nothing more than to cozy up on the couch with a good book when fall weather rolls in!
---
Fall Florals
Floral arrangements aren't just for springtime—you can spruce up your space with flowers both real and false during the autumn months, too! One of my favorite fall decorating ideas involves arrangements of dried florals in mason jar vases; to achieve this, you can either purchase dried flowers or purchase real flowers and dry them yourself.
If you don't care for real flowers—dried or living—you can always make beautiful arrangements of false flowers and greenery in classic autumnal colors. I recommend leaning heavily on warm oranges, dark greens, rusty reds, and cream.
---
Fireplace Frames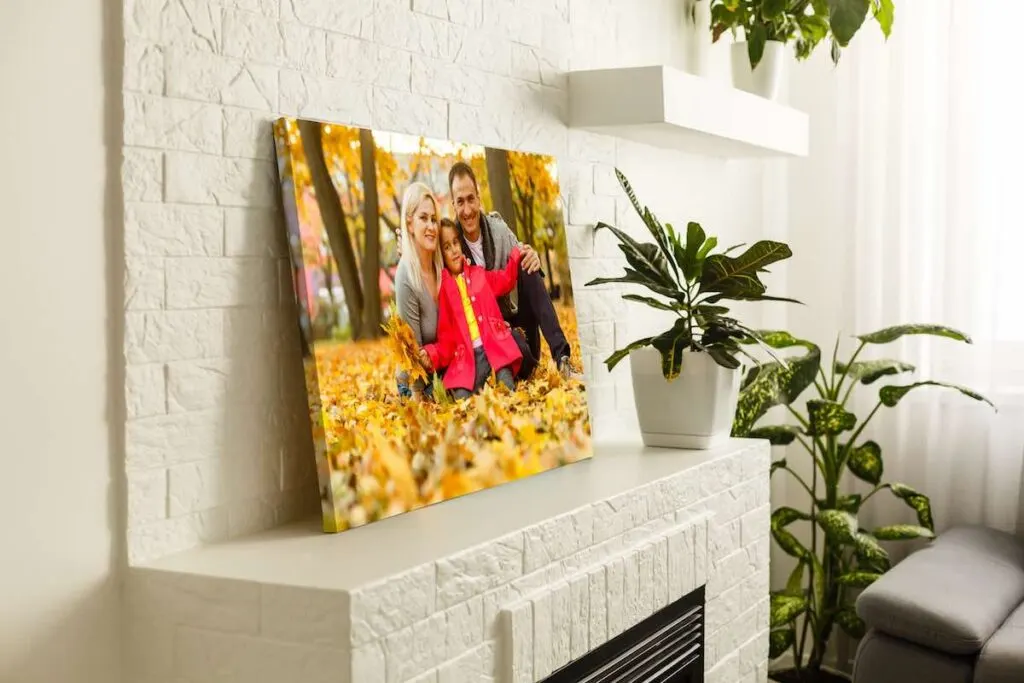 Let's round out this list of fall decorating ideas with a more personal touch! If you're lucky enough to have a roaring fireplace in your home, decorating your mantel is a fun and simple way to brighten things up for fall. My favorite item to add to your mantel is framed pictures of you and your loved ones!
Pictures can make you feel warm and fuzzy inside while the fire itself keeps you feeling warm and fuzzy on the outside. I suggest using wooden frames to keep your décor in that autumnal sphere.
---
Wrapping Up Fall Decorating Ideas
I hope this list has inspired you to head into the autumn season with decorating enthusiasm! If you're on the hunt for more seasonal or holiday décor ideas, take a peek at our décor section now!