DIY front door decor or door hangings. We aren't bound to just Christmas wreaths anymore, so no need to go to the hobby store for wreath forms or floral wire. We can get even more creative when we DIY door decor for Christmas and head instead to the home improvement store to create our holiday decor! Its time to take a look around the front porch, remove those spider webs (whether from the DIY Halloween decorations or,.. well the natural ones) and dream up our favorite DIY Projects and work them into our home and front door decor ideas!
Want some great Christmas Decoration Ideas to DIY for your home?
To help you out this Christmas season I have even collaborated with TWENTY SIX other DIY and Home bloggers to bring you the Deck the HOME Blog Hop!
The Deck the Home Blog Hop is a series of incredible DIY Christmas projects that we will all be posting each Monday morning from now until the first week of December. Each week we will hit a different theme and this weeks theme if you haven't guessed is Door Decor! So be sure to read through to the end so you can check out ALL 26 other bloggers projects!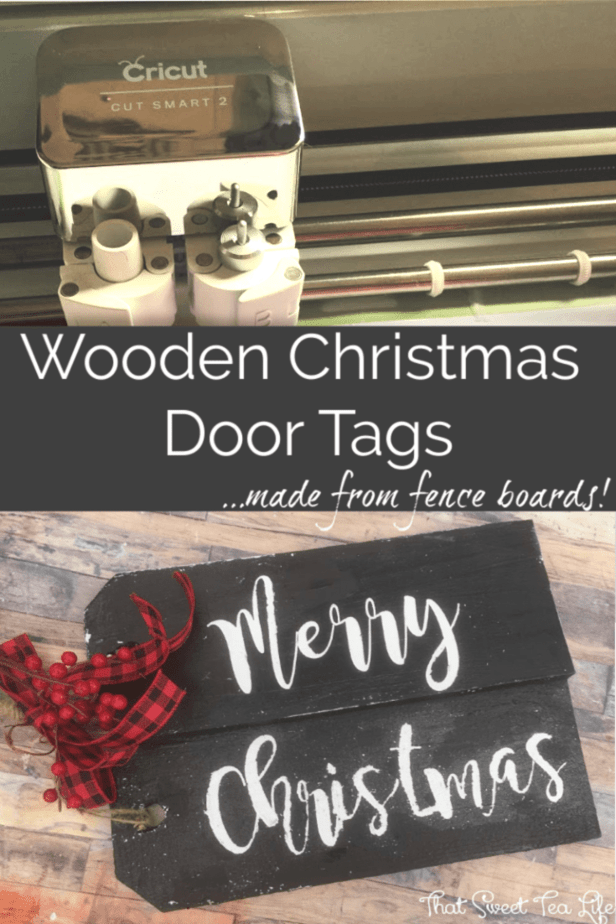 Today we are going to show you how to make your own set of Christmas Door Tags to deck your halls (or at least the front porch). They are quite simple to make and are a great alternative to the traditional wreath.
Here is what you will need to make your own Wooden Christmas Door Tags:
This list is made of mostly clickable links for your information and shopping ease. If you purchase through the links provided I may earn a small commission at no additional cost to you.
2 dog ear pickets (or 2 piece of wood with corners cut off at one end)
Warm White DecoArt Enamel Paint
How to make your own Christmas Tags Door Decoration
Cut your pickets to somewhere between 12″-15″ long. Normally you can go ahead and have Home Depot cut the wood to length for you without a problem, the big saw at our local store happened to be out of service so we had to bring them home and cut them ourself on the table saw.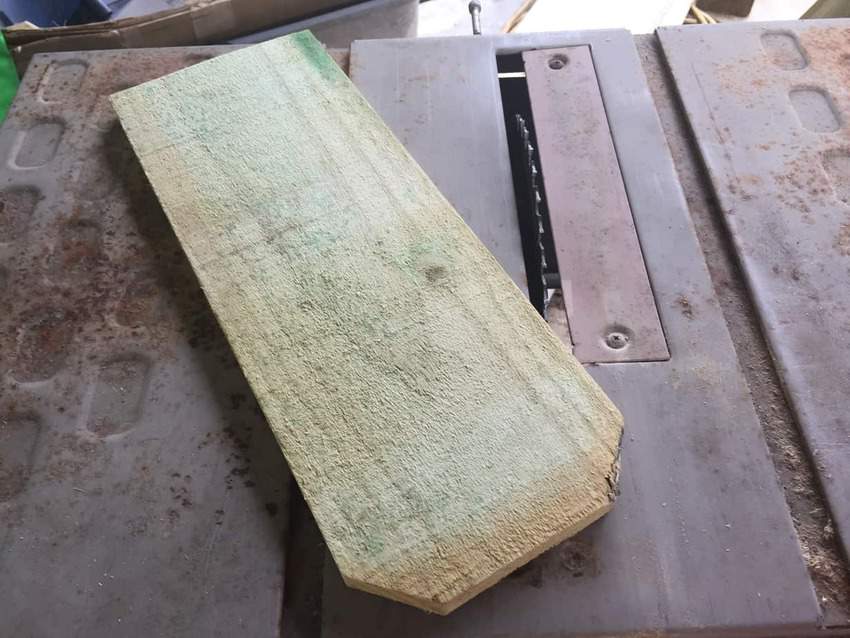 Next you will need a 1″ drill bit to cut the holes on the top of your tag for hanging.
Fence pickets are much rougher than if you just purchased a board to paint but we wanted to make it a little easier to get that gift tag shape and we knew we wanted a slightly rustic look. The dog ears only require we cut them to length.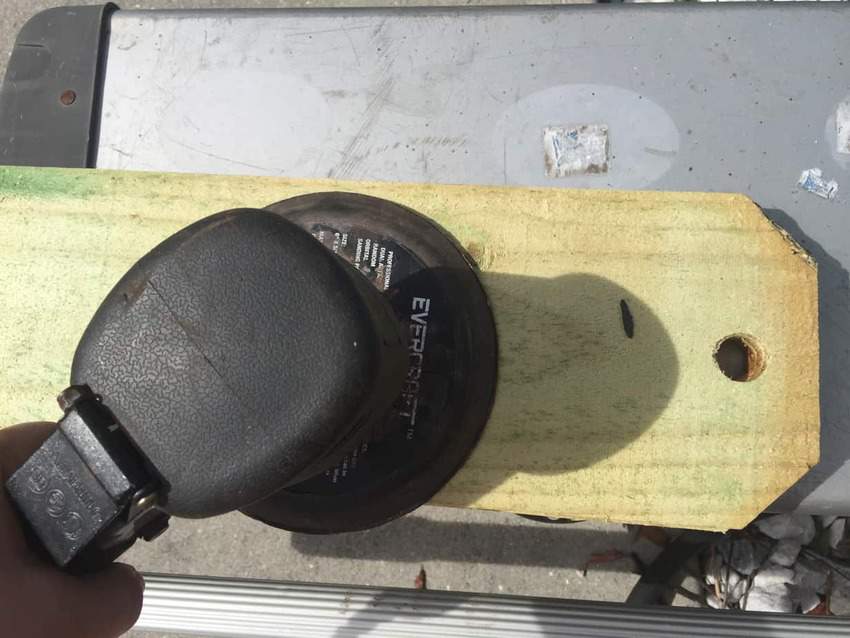 But because the wood is SO rough you will want to smooth it down with a palm sander or put a little elbow grease into it and use a sanding block.
Be sure to go over the edges lightly as well. Wipe away any excess dust to prepare your surface for painting. Then find a pretty font in your Cricut machine and bring it up in Design Space.
We used Magnolia Sky and reduced the letter space to -0.4 so that the letters were all connected. Our board was 5.5″ by 15″ so we made the lettering no longer than 11.75″ ( so it would fit on the mat) and no wider than 4.5″
While your machine is doing the cutwork you can move on to painting your sign, we gave ours a good solid coat of white and let it dry while we got the vinyl ready to place. Once your base coat is dry you can place your lettering how you like it, we centered ours and ran it down the board. Be sure to rub it into the wood so that it sticks well and you get a sharp edge.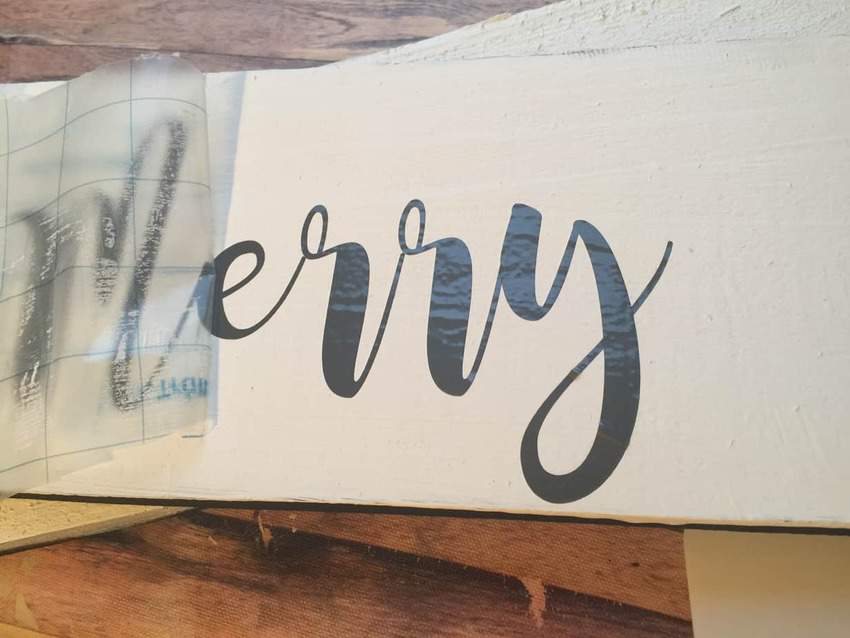 We are going to be doing my favorite method which is – paint vinyl paint. It is simply painting a base coat and allowing it to dry, (I used DecoArt Warm White Enamel) adding your vinyl stickers and paint over it again, (here we used DecoArt Black Enamel) remove your stickers-it gives you lovely results with no worries of peeling vinyl later on.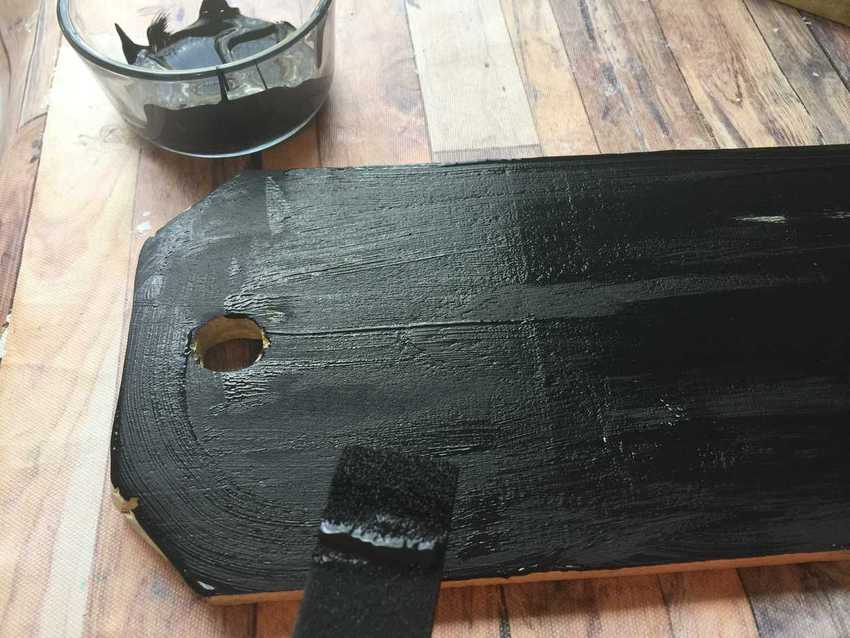 Paint your second color over the vinyl and let it dry completely. Peel up the stickers, stand back and admire your handiwork, but not for too long we are not quite done yet.

If you want to keep a clean look, be careful to sand everything smooth before you begin. Because we did not sand my boards very well you see that the vinyl didn`t adhere as well and there was a lot more bleeding under the vinyl. If yours bleeds you can touch it up with a tiny paintbrush. **Also, to prevent bleeding you can paint over the letters in the base color first, then paint the secondary color. This way if bleed happens, it's the same color as the base.**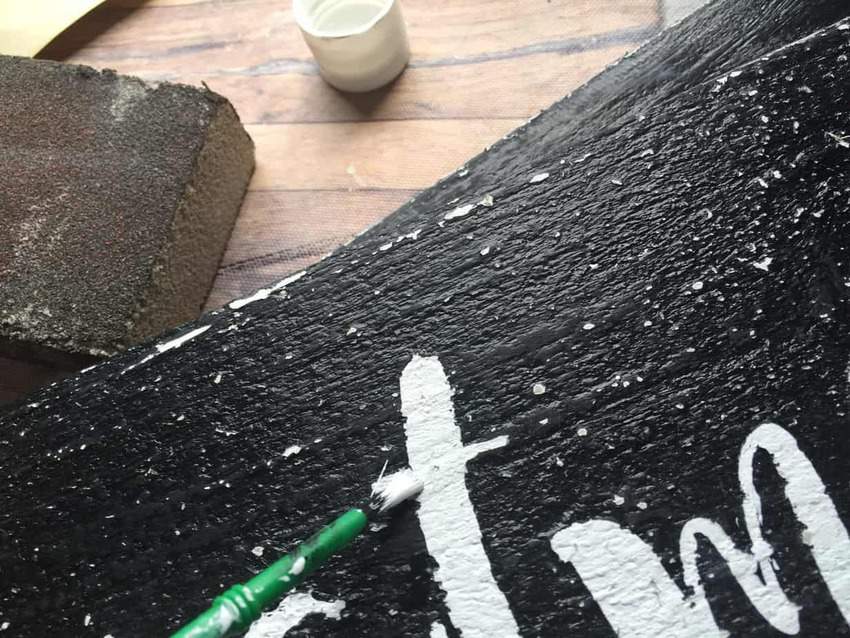 Also, add a little more distressing to the front of your tag with the sanding block and work those mistakes right into your final product! Hit the edges of your tags with the sanding block to distress and give them some character.
Run twine or rope through the holes, just enough to give it a good hanger.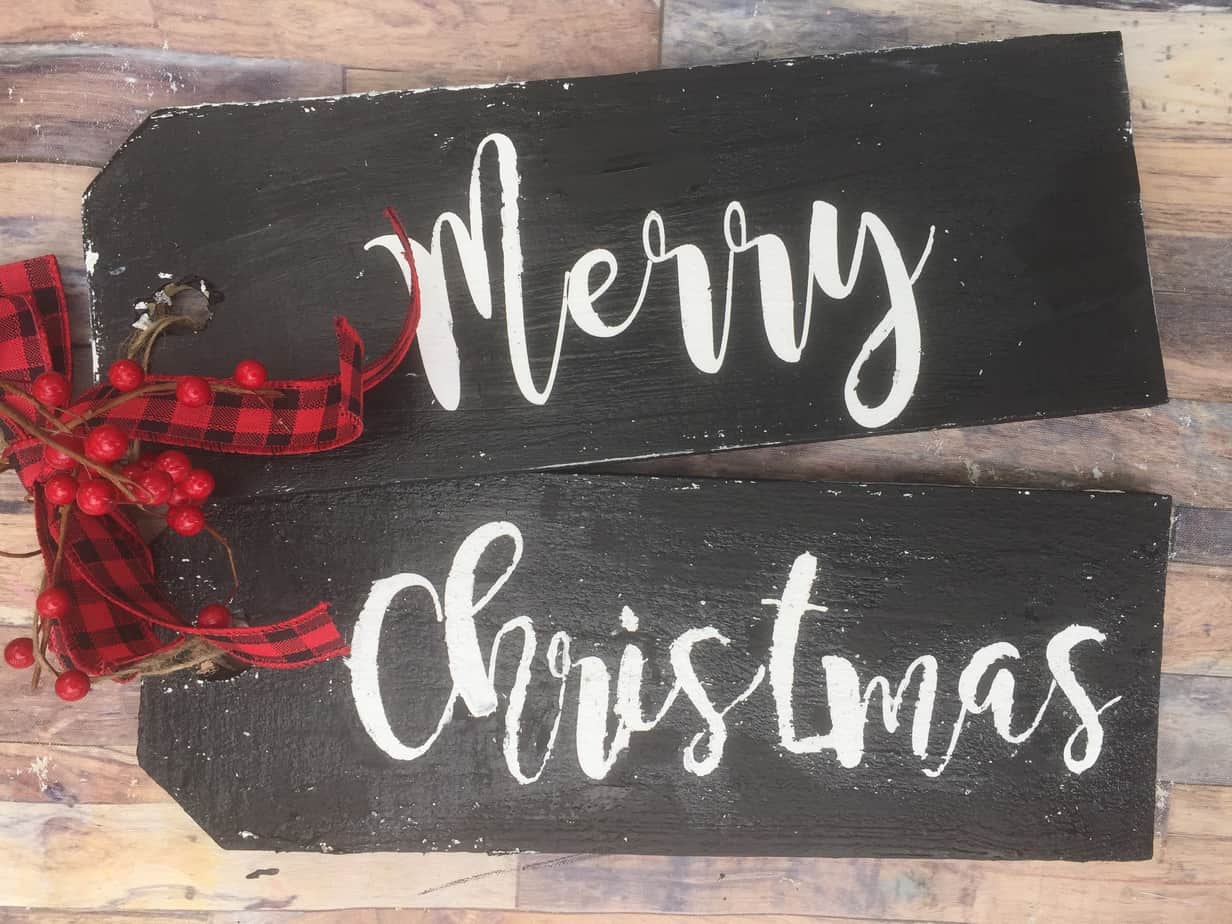 Tie ribbon into a tidy bow and add to the top of your tags.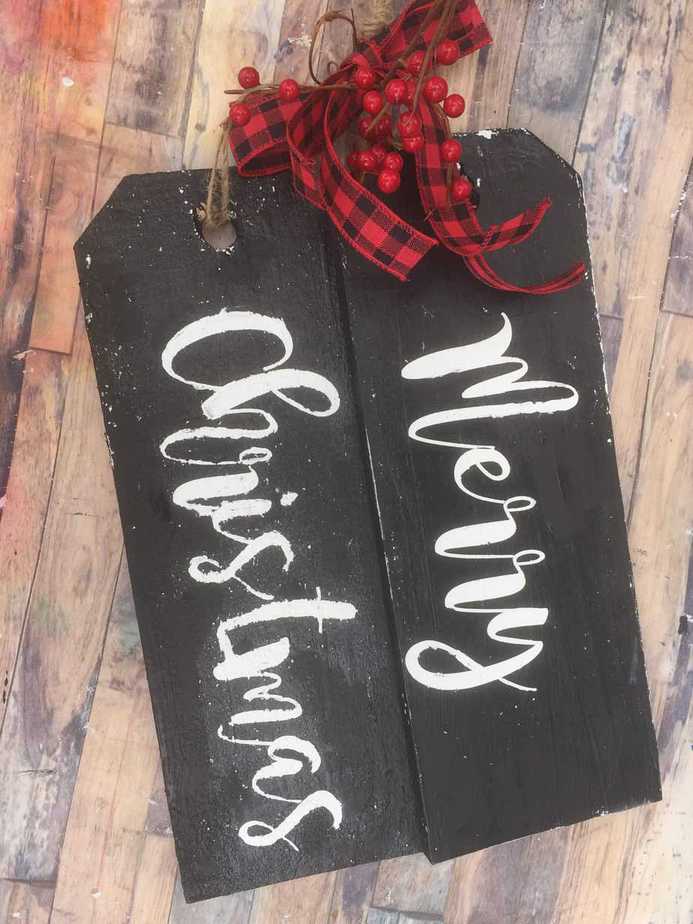 Add a little greenery to finish it off. Adorable right?? …and so easy! Especially if you can get your hands on someone at the store to cut it down for you! Ok Ok now I know you want to check out all the other awesome DIY Christmas Door Decorations! We are going to have you all ready to throw up your Christmas tree and hang the candy canes! (If you haven't already!). Now, be sure to check out all the awesome projects from the others in this incredible Blog Hop! If you don't see them yet-done fret- they will join below soon. Perhaps just pin or share this article to check back later. 💙