Are you looking for new ways to decorate your home? Sure, you can easily buy new decorations. But why do that when you can make some for a fraction of the price? DIY candle holders are an excellent way to bring unique decor to multiple areas of your home.
There isn't just one way to make candle holders. Depending on what you have available, there are hundreds of ways to make them. Keep reading for a few that you can try out!
You can easily make candle holders with products like various containers, craft supplies, and even free things like twigs. Take a look at these candle holder options, grab your supplies, and get crafting!
---
Floating Tea Light Candle Holders
Floating tea light candle holders are the perfect idea to create an elegant feel in your home. They can make beautiful minimalist centerpieces or accents with other decorations. This DIY candle holder is also easy to make, as you probably already have some of the needed products. You can decorate these candle holders as you please with things like ribbon, twine, or anything else you like.
What You'll Need
Here are the primary materials you'll need to create floating tea light candle holders for your home:
Steps to Creating Floating Tea Light Candle Holders
Here are the steps you should follow:
Rinse out your jar and dry it completely. This will help remove any dust. You don't want gross dirt particles floating in the water.
Fill about ¼ – ⅓ of the jar with your decorative rocks or glass pebbles.
Pour water into the jar until there are about two inches of space left at the top.
Optional: Decorate the jar by tying a ribbon or twine bow around the middle of it.
Carefully place your candle on the surface of the water and light it!
---
Twig Candle Holders
Creating twig DIY candle holders is another easy project; you can find twigs right in your backyard! These candle holders are great at creating a rustic feel in your home.
What You'll Need
Here are the materials you'll need to gather:
Clay, ceramic, or glass tea light holders
Hot glue gun and hot glue sticks
Thin twigs. Go to a woodsy area and search for twigs that are about ¼ inch in diameter.
Ribbon or twine (optional)
Steps to Creating Twig Candle Holders
Follow these simple directions to make them:
Prepare your hot glue gun by plugging it in and inserting a glue stick.
Gather all your twigs and break them to the length of your choosing. You can make varying lengths or make them all the same size. It's up to you, depending on how tall you want your candle holder to be.
Grab your hot glue gun and squeeze some glue onto one of the twigs. Press the twig to the side of your jar until it sticks. Continue this process until you cover the entire jar.
Optional: Wrap a ribbon or twine around the middle and tie a bow.
Put your candle in the holder and light it!
---
Beach-Themed Candle Holders
A beach-themed DIY candle holder can make a great addition to your summertime decor.
The two primary products you'll need are sand and shells. However, don't get these things from an actual beach. Use decorative sand and seashells instead to prevent bringing bugs into your home. All kinds of bugs call beach sand their home, including sand gnats. These bugs are about ⅛ inch in size, so you can bring them in unknowingly. With that in mind, gather all your materials and start crafting!
What You'll Need
Here's everything you need to get:
Hot glue gun and hot glue sticks
Steps to Creating Beach-Themed Candle Holders
Use the following steps to create your beachy DIY candle holder:
Heat up your hot glue gun.
Grab your jar and wrap or tie some rope or twine around the top. If it doesn't stay, you can use hot glue to secure it. Try to do at least three wraparounds. You can tie it in a bow or simply glue it if you don't want a bow.
Fill about ⅓ of your jar with some decorative sand.
Put your candle inside the jar. It might help to make a small hole in the middle of the sand to make sure the candle is secure.
Decorate around the candle with various shells.
Light your candle and enjoy the beach vibes!
---
Mini Flower Pot Candle Holders
Try making your home a little brighter with some moss! You can make DIY candle holders out of tiny flower pots and fake moss. They'll give your home a woodsy and relaxing feel.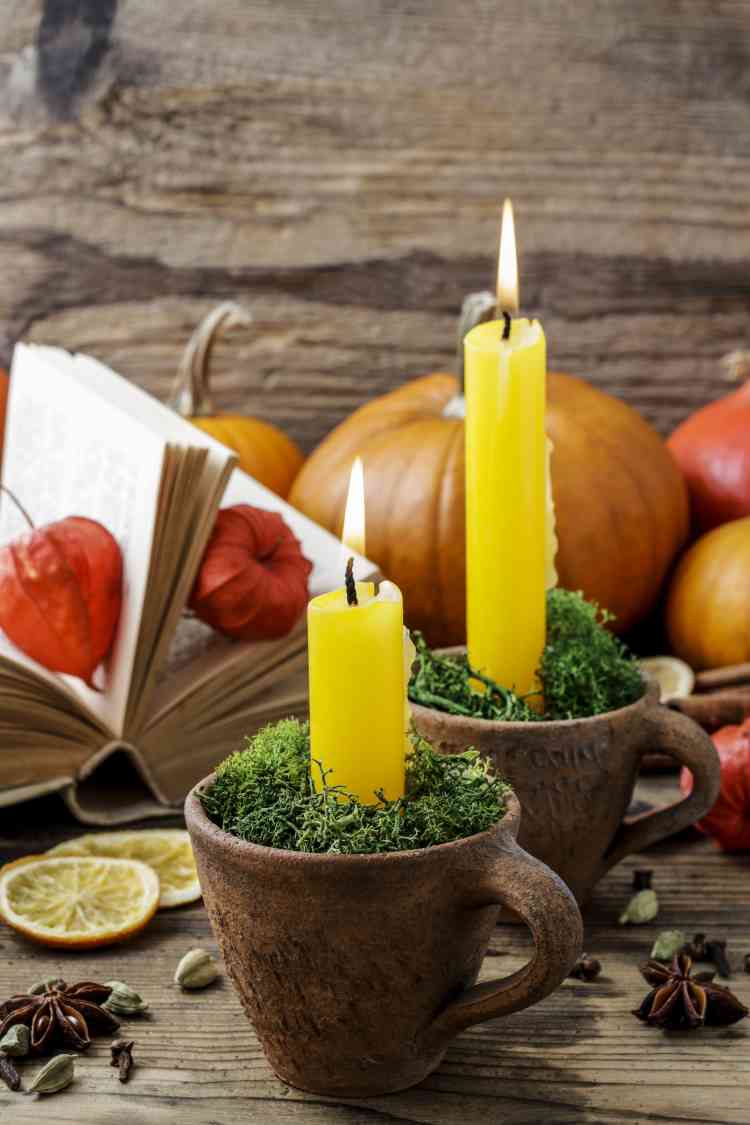 What You'll Need
Use the following materials to create your new DIY candle holders:
Steps to Creating Mini Flower Pot Candle Holders
Follow these steps to get started on your candle holder project:
Heat up your hot glue gun.
Grab your taper candle and cut it in half or smaller. The small pots or cups can't handle the weight of the entire candle.
Cut a cube of floral foam about the size of the bottom of your little pot or cup. Then cut a hole the size of your stick candle in the middle. Hot glue it in the pot or cup.
Place your candle in the floral foam hole inside the pot.
Fill the space surrounding the candle with moss. Use hot glue to secure it.
Light your candle and enjoy!
---
Plastic Spoon Lotus Flower Candle Holder
If you're looking for something a little fancier-looking, you can easily make a lotus flower candle holder with plastic spoons. This one will take a little more time than the other DIY candle holder projects, as it requires gluing and painting. However, the result is worth it!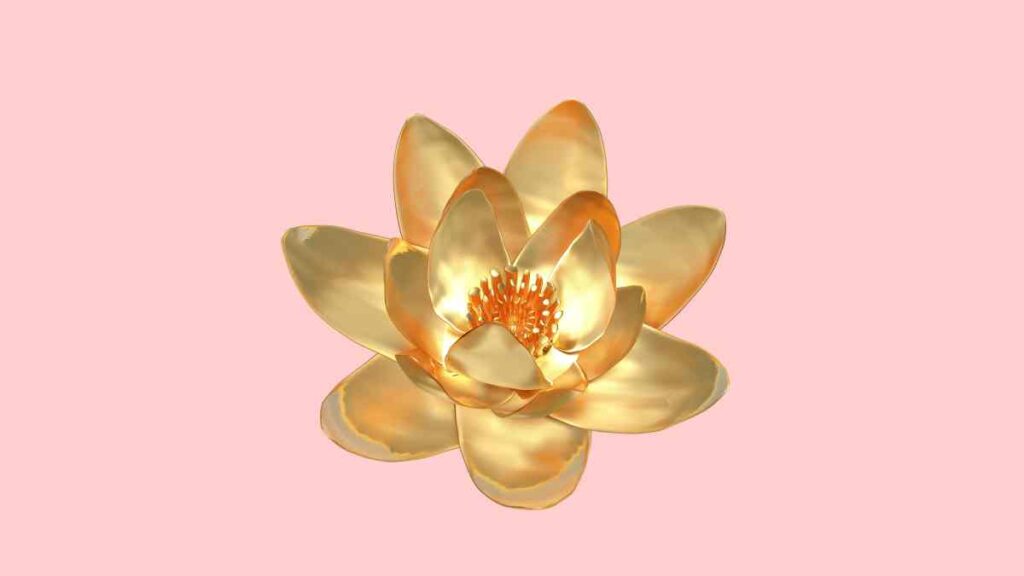 What You'll Need
Gather the following materials to get started on your DIY candle holder project:
Spray paint or normal paint
Paintbrush if you're using normal paint
Hot glue gun and hot glue sticks
Circular piece of wood that's about 5 inches in diameter
Scissors
Steps to Creating Lotus Flower Candle Holders
Once you have all your materials, use these steps to start crafting:
Heat up your hot glue gun.
Grab a bunch of spoons and cut their handles off. You only need the scooping parts of the spoons.
Get your circular wooden base. Place your candle in the middle of it and trace the base of it on the wood.
Put some glue on the end of a spoon piece (where you cut it). Glue it on the edge of your wooden base. Repeat this process until you have a circle of spoons.
Create another inner circle of spoon pieces using the above process. Repeat this until you reach the circle you drew.
Paint your lotus flower with spray paint or regular paint with a color you like. Let it dry.
Put your candle in the middle of the lotus and light it!
---
What to do with Your New Unique Candle Holders
Do you need help finding the perfect spot for your DIY candle holders? Here are a few ideas to get you brainstorming.
Candlelight Dinners
Candles can make a relaxing ambiance while enjoying dinner. Put your candle holders in the middle of your table to feel like you're dining in a restaurant every night!
Event Centerpieces
Using your candle holders for event centerpieces can easily dress up your dining tables. They can make pretty additions to tables at weddings, birthdays, charity events, and other parties. Making your own candle holders can also help you save money without sacrificing style.
Gift Them
Sometimes you can't find the perfect gift for someone, or you might be trying to stick to a budget. Gifts like DIY candle holders can fix this dilemma, as they look beautiful and are useful. Candle holders can make great housewarming gifts!
---
Frequently Asked Questions
What is the best material to use to create candle holders?
Glass is typically the best material to use when making DIY candle holders. This material can handle the candles' heat and won't light on fire. It's also easier to wash than other materials if the wax gets stuck.
What can you use instead of a candle holder?
You can use a variety of household items for DIY candle holders! Try using cups, trays, bowls, jars, and other similarly-shaped things. As long as the object can catch the wax and stand the candle upright, it will work as a candle holder.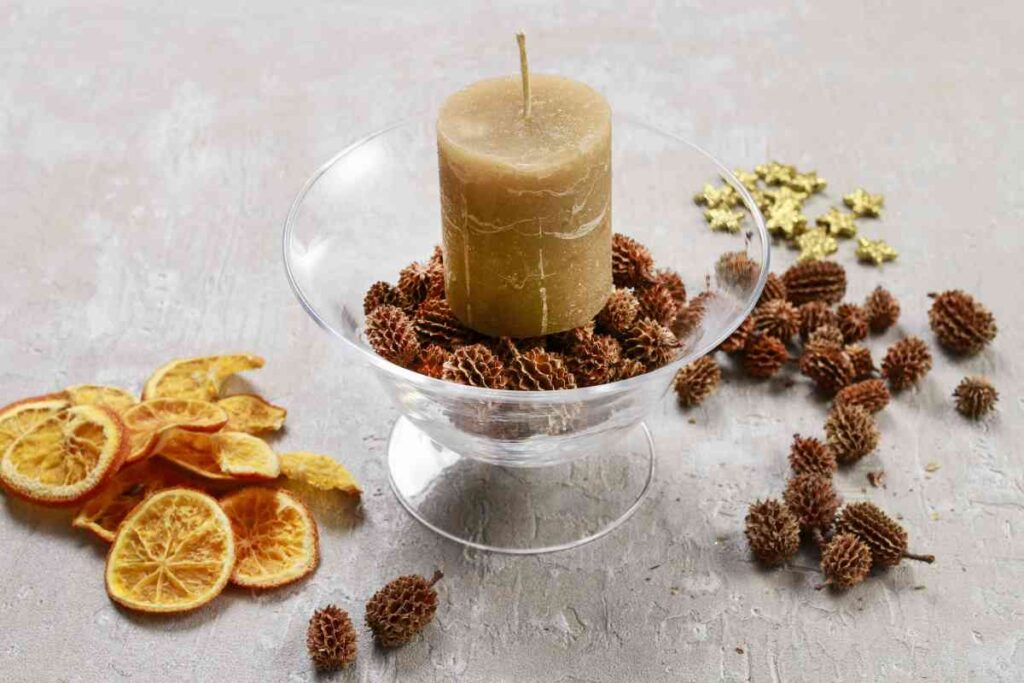 Can you use foil as a candle holder?
Aluminum foil can make a great DIY candle holder if you need a quick fix. Simply form the foil into the shape of a cup and place your candle inside. Foil is safe for high heat, will catch the wax, and it's disposable!
---
Get Crafting!
Sometimes your home can look a little boring, but simple decorations like candle holders can quickly revamp your home's aesthetic. Luckily, making your own holders is easy and inexpensive with just a few items.
Use these DIY candle holders as inspiration and get started on your new home decor adventure! Are you looking for more DIY projects? Check out our DIY page for more ideas!
About the Author
Latest Posts
Ashley Masiello is a crafting fanatic, video editor, artist, general freelance writer, and a writer for That Sweet Tea Life. She has a bachelor's degree in film/media and two minors in writing and art.
She loves to try out crafts, projects, and recipes in her free time. And she enjoys sharing fun and interesting artistic knowledge with others. Whether you like scrapbooking or cooking, there's a fun learning process for everything!
Ashely can be reached at ashleymasiello821@gmail.com