The sensation of one pot, quick cooking is spreading wildly amongst busy families with no time to prepare large meals, especially on week nights. Though you may be short on time, this one pot creamy cajun pasta is no compromise on freshness and flavor.
The two secrets to making fast meals without compromising deliciousness are:
Bold spices
Fresh vegetables
In cajun culture, creativity comes from cooking with ingredients you already have and making them more vibrant with incredible spice blends. Creamy pasta is the perfect vehicle to soak in and bring balance to a heap of cajun spices, so be bold, overindulge, jazz it up, and embrace the spirit of liveliness, like a tiny taste of New Orleans, Louisiana all in one pot.
Cajun cuisine is the countrified version of creole cooking, meaning, you do not have to spend a lot of money to prepare something warm and delicious that the whole family will love. Using leftovers in your refrigerator, a little love, and a lot of spices will make this dish unique and delicious, and it will keep folks coming back for more.
For most people, pasta qualifies as a comfort food or a winter food, the kind of food that satisfies the part of you that wants to lay down on the couch with a blanket and settle in for a warm night inside. However, with some substitutions like seafood as your protein and extra spices to energize your metabolism, cajun pasta can be your quick go-to recipe all year long.
Start with the spices:
Start with the spices:
What's in the perfect cajun seasoning? Often a blend of thyme, paprika, oregano, garlic powder, onion powder, pepper (black, white, and/or red), and a lot of soul.
One of the fastest ways to add soul and personality to your pasta is to make your own spice mixture. You can buy cajun spice mixtures at pretty much any grocery store, but if you have a few of the of the following, why not make your own?
• Oregano
• Smoked paprika
• Thyme
• Onion powder
• Garlic powder
• Cayenne pepper
• Black pepper
• White pepper
• Red pepper flakes • Chili powder
The Vegetables and Proteins
For my cajun pasta, I used half of a tomato from my garden, a jalapeño, and half of an onion. Ingredients like carrots, celery, garlic, mushrooms, bell pepper, red peppers, spinach etc… can also be used in place of or in addition to these ingredients. You might also like to experiment with different chilis to find your favorite heat level.
In order to achieve a certain balance in the heaviness of this dish, I opted to used andouille chicken sausage and shrimp in my creamy cajun pasta, but you can add pretty much any protein or meat substitute. Some options include: chopped chicken, pulled pork, scallops, tofu, chorizo, Meatballs etc…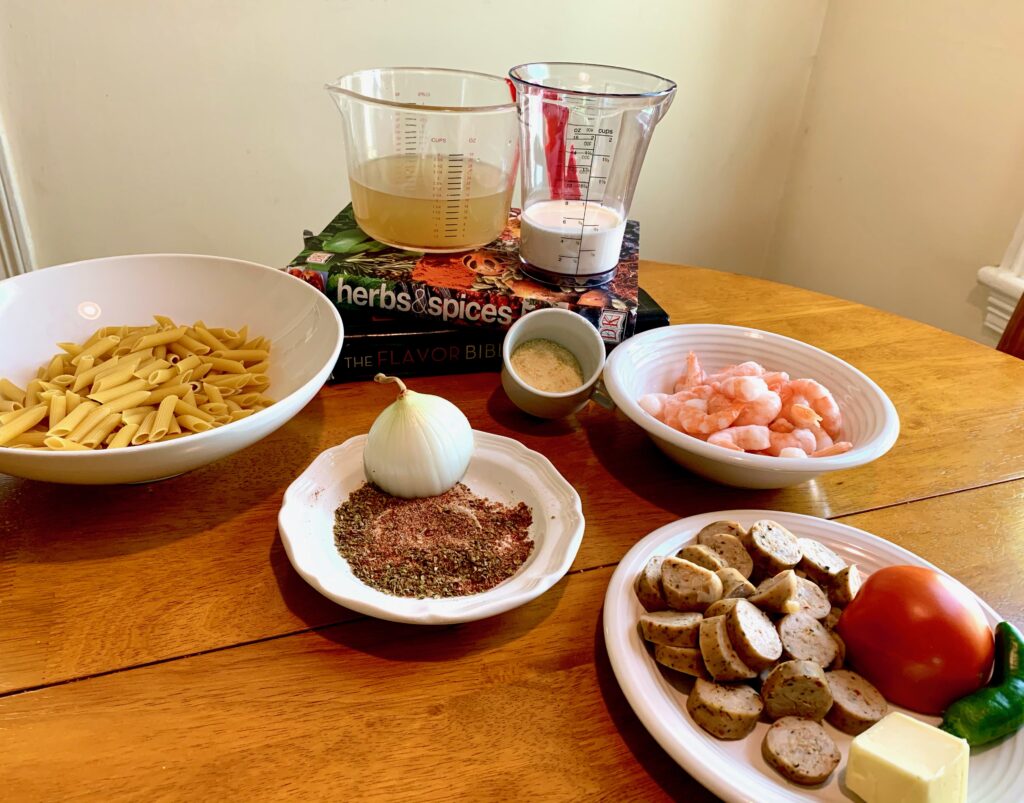 The Broth:
In my preparation of this bold and delicious pasta, I used a simple chicken broth to pair nicely with my chicken sausage, but you can also add wine, cooking wine, or a little vinegar mixed with your broth to heighten the flavor with a little acid. Seafood stock will bring a salty, briny bite to the dish, or you can go with vegetable broth if you are tryin to keep this dish vegetarian. (This pasta is great with mushrooms and tofu).
The Finishing Touches:
Cheese often comes to mind when I think of pasta. In fact, I have a hard time separating the two. Parmesan cheese adds additional salty flavor to this spicy pasta, and it pairs nicely with fish as well as other proteins. Some strong cheeses might overpower the subtle sweetness of the shrimp or other seafoods, so if you decide to go with sea creatures in your pasta, choose a milder cheese. Some options include: Mozzarella, asiago, white cheddar, cotija, feta, gouda, havarti, mascarpone (mascarpone will add to the creaminess and sweeten the dish.), Ricottca, etc…
Fresh Oregano as well as other herbs can really enhance the flavor of a dish. Herbs such as parsley, cilantro, thyme, basil, mint and other earthy herbs can be added to create harmony between the creamy, decadent flavors and the natural zest of the dish.
Lemons also add zest and acidity to dishes, bringing out the natural flavors of your proteins and vegetables. Lemons pair especially nicely with fish, so be sure to add this to your scallop or shrimp cajun pasta.
Fresh Jalapeños give your pasta that final kick of spicy, cajun flavor. If you are not a huge fan of spicy flavors, try adding pickled jalapeños or lightly sautéed jalapeños. They still give a punch of flavor, but with a little less heat.
Vegetables and fruits like raw diced green onions or canned fire roasted red peppers or tomatoes can add zing to this dish.
If you're feeling especially, adventurous, saute some apples and carrots with your onions before adding the pork sausage (This gives sweetness and to the savory pork.)
Don't Overcook:
The two greatest parts of one pot cooking:
1. Elimination of the stress of clean up
2. Typically a quicker cooking process/ huge time saver
Often though, people think of one pot cooking as a version of crock pot cooking, where you throw all of your ingredients in and wait for the magic to happen. One pot cooking still requires some attention to detail, especially if you are cooking with multiple proteins that require different methods. Make sure, especially when cooking with seafood, that you do not over cook your ingredients, making them rubbery and texturally unappealing.
Storage Instructions:
If you somehow don't manage to finish all of this pasta in one sitting, store your creamy cajun pasta in an air-tight container in the refrigerator for up to 2 days. You can store the pasta in the freezer in an air-tight container for up to 2 weeks.
Side Dishes:
This Cajun pasta pairs well with charred asparagus with lemon and garlic, buttery garlic bread, or spinach apple salad with candied cayenne pecans.
Drink Pairings:
Chianti pairs nicely with this pasta as the acidic notes lighten up and balance the heavy, richness of the pasta. If you are a white wine drinker, pair with a chablis or unoaked chardonnay. The fruit forward flavor of this earthy wine will give just the right amount of tang to your tongue as you enjoy the warm spices in your creamy pasta.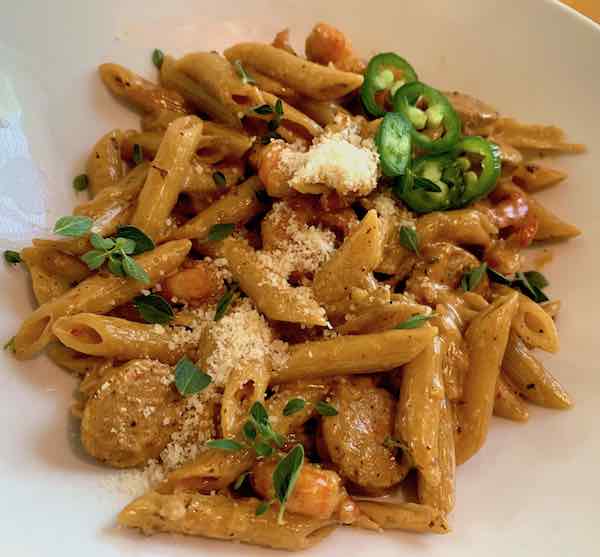 Yield:

4 servings
One Pot Creamy Cajun Pasta
Quick, easy, spicy, creamy, and delicious... what's not to love?
Ingredients
Cajun Seasoning:
Oregano (1 tsp)
Paprika (preferably smoked paprika) (1/4 tsp)
Cayenne pepper (a dash)
Black pepper (a dash)
White pepper (a dash)
Garlic powder (1/4 tsp)
Onion powder (1/4 tsp)
Chili powder (a dash or to taste)
Salt (to taste)
Creamy Cajun Pasta:
1/2 yellow onion
1 TBSP of butter
2 small andouille chicken sausage • 1/2 tomato
1 jalapeno
6 oz. shrimp
cajun seasoning
8 oz. penne pasta
2 cups of chicken broth
1/2 cup cream
1/4 cup of parmesan (or to taste)
Instructions
Mix all of your spices together in a small bowl to create cajun seasoning or have store bought cajun seasoning ready for flavoring your pasta.
Set stove top to medium hight heat (high enough to brown your sausages and cook the onions quickly). Add 1 TBSP of butter to your pot and let it melt. Chop your onions and add them to your melted butter. Allow onions and melted butter to cook for 1 minute.
Cut sausage into 3/4 inch slices then add to the cooking onions. Add 1/2 of the spices to the onion/sauage mixture. Cook until onions are translucent and sausage is slightly browned on the edges. Remove sausage and onion mixture from the pot with slotted spoon, allowing some butter to remain in the pot. Place sausage and onion mixture in a bowl and save for later.
Chop tomatoes and jalapeños and add them to the remaining butter. As the tomatoes start to break down and the jalapeños start to soften, add shrimp and seasoning. Cook on medium high heat for about 2 minutes on each side (If you are using frozen shrimp, make sure to follow the thawing and cooking instructions on their package.) Remove shrimp, tomato, and spice mixture add to bowl of sausage and onions and set aside for later.
Pour two cups of chicken broth into pot and bring to a boil. Add pasta to boiling broth and set timer for 12-14 minutes. Stir occasionally and check pasta for desired tenderness.
Lower heat to medium low and slowly add in cream while stirring. Add in shrimp and sausage mixtures and continue to stir for 2 minutes or until the cream has thickened.
Remove pasta from the heat. Turn off your stove, add your parmesan, add any finishing touches or ingredients, and prepare to serve up some delicious one pot creamy cajun pasta.