Are you looking for blue and white living room decorating ideas? Blue and white is a timeless color scheme that never goes out of style. It's a versatile combination that works well in many different ways. Depending on how you style it, blue and white can look dramatic and contemporary, soft and cozy or anywhere in between. If you're looking for ideas on how to decorate a living room using blue and white, keep reading for some inspiration and style tips.
Setting The Mood of Your Living Room with Color
Color can make a huge impact on how a room looks and feels. Blue is known as a calming color that can make you feel relaxed and at rest. White evokes a sense of simplicity and feels fresh, clean, and airy. Together, blue and white can create any number of different looks and styles to set the mood you want. That's why these blue and white living room decorating ideas are a great way to go!
Make The Walls Bold
When it comes to blue and white living room decorating ideas, bold color is a fabulous start. Deep navy is a dramatic choice that looks strong and contemporary. Simple furnishings make the wall color stand out and add to the sense of drama in the room. Bright white furniture keeps the room from looking too dark while pillows and throw blankets on the couch add softness making the room look inviting and comfortable.
If painting your entire living room a bold color seems like too much, you could do an accent wall in a striking blue shade and paint the rest of the walls white or another neutral shade. Adding art and photos to a dark blue wall can also break up the color and keep it from looking too dark.
Create a Tranquil Space
Sometimes blue and white living room decorating ideas lean away from boldness and closer to serenity. Calming shades of blue and off-white create a serene and tranquil space in this living room. Gauzy curtains diffuse the light coming in, keeping it soft so the sun doesn't feel overwhelming. Soothing blue paint and dark brown accent pieces make the color pallet deep and rich, adding to the overall calming feel of the room. The rug defines the space making the seating area feel cozy and intimate. When it comes to blue and white living room decorating ideas, you can't go wrong with the idea of adding some zen.
Dramatic Shades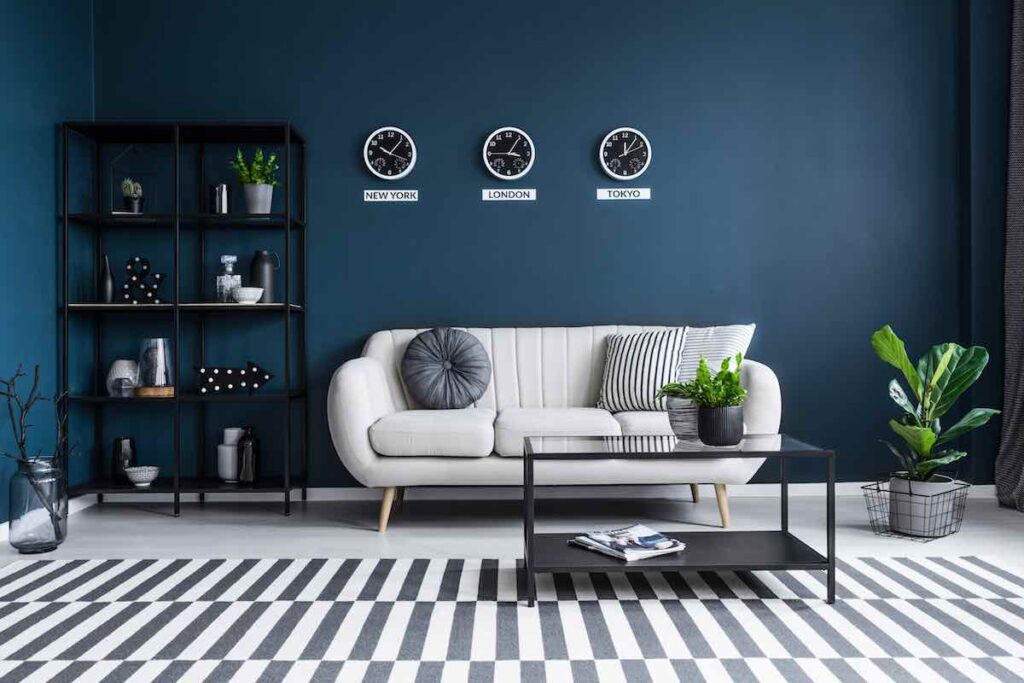 If you want blue and white living room decorating ideas with a bit more flair and you like a sense of drama, you can make a bold statement with shades of rich navy blue and touches of stark white. In this living room hints of white brighten up the space and gold accents reflect light keeping the room from appearing too dark.
A plush couch adds softness and can keep a dark room from looking too harsh. Having a sense of drama doesn't mean your living room can't also be welcoming and comfortable! You can add coziness to any living room with soft fabrics, pillows, and throw blankets.
Bring in Warmth with Wood Furniture
One thing to consider with blue and white living room decorating ideas: blue is a cool color. You can add warmth by bringing in shades of soft white and warm browns. In this living room, natural brown wood with beige and tan floral arrangements keep the room from feeling too cool. The tan coffee table, baskets, and other accents add quite a bit of warmth to the cool blue couch. A sky-blue wall helps the room feel open and bright while the mirrors reflect light, adding even more brightness. The light brown trim on the mirrors balances the other browns in the room.
Add a Bit of Whimsy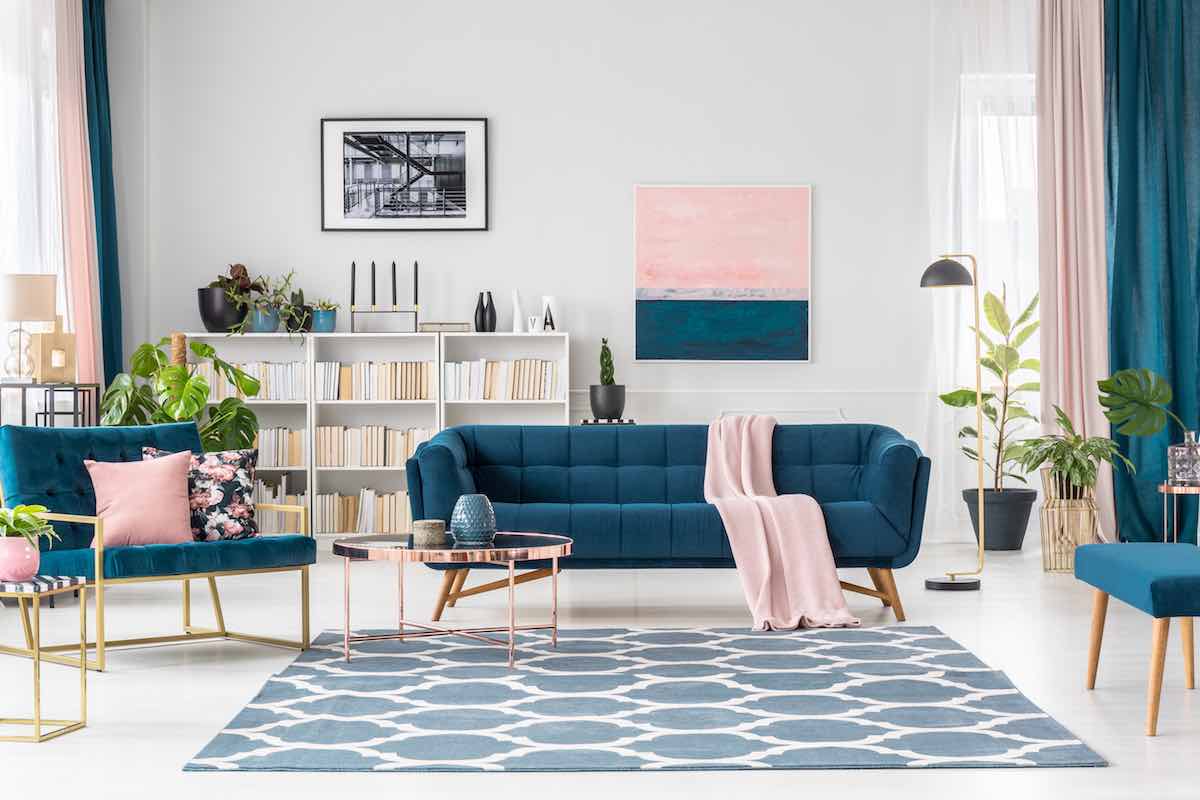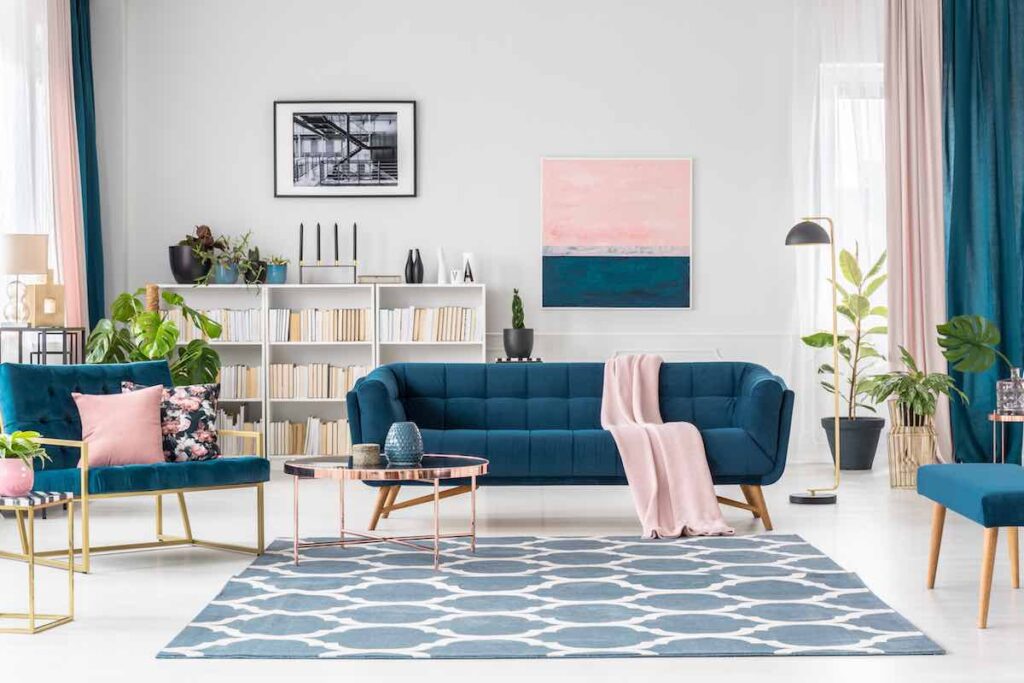 Looking to add some whimsy to your blue and white living room decorating ideas? This pretty combination of pink, white, and blue is whimsical and fun while still looking sophisticated. Adding a small touch of whimsy can make a living room feel approachable and welcoming. Splashes of pink break up the plain walls, adding depth and dimension.
If you like having a convenient place to hide clutter, the shelves here are perfect for organizing magazines and other loose items before company comes over. Having an attractive place to store your clutter can add both style and function to your living room.
Natural Blue and White Living Room Decorating Ideas
Blue is found in nature in many ways. Bringing the outside in with your living room design can help you feel more connected to nature and create a soothing feel while you're using the space. Keep reading for some natural blue and white living room decorating ideas.
Go Coastal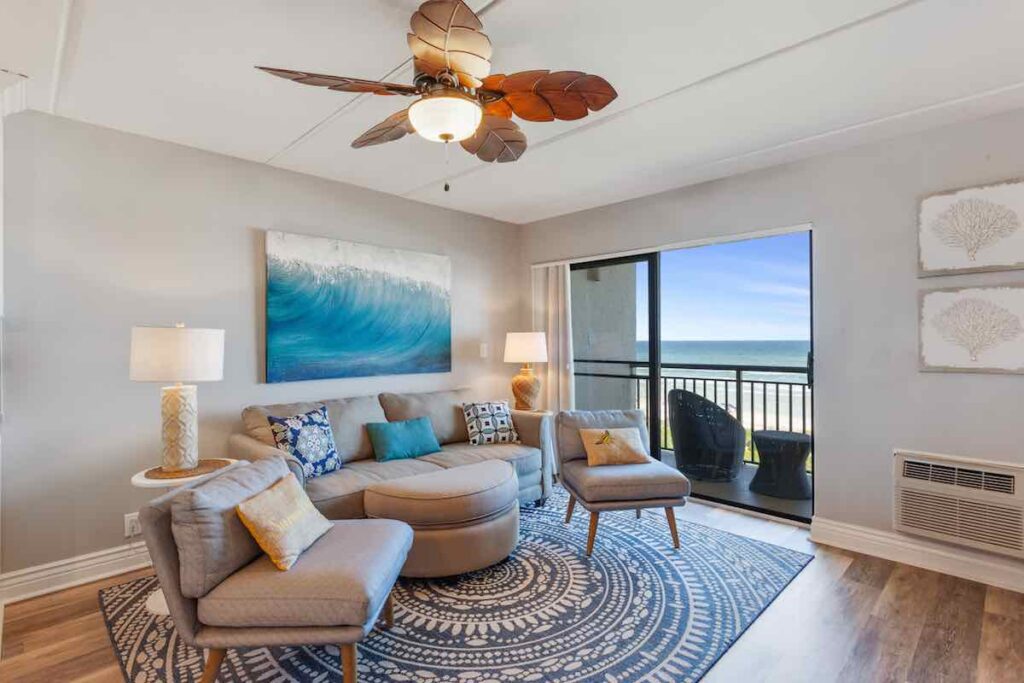 Channel the ocean with shades of blue that remind you of the sea. A white background keeps everything fresh and clean helping the blue to stand out. Decorate with shells or driftwood to enhance the coastal look even more. You can use shades of navy blue with stripes and anchors to make the room look more nautical, or incorporate beachy shades of sky blue, turquoise, and sandy beige for a beach house style.
Bring the Sky Inside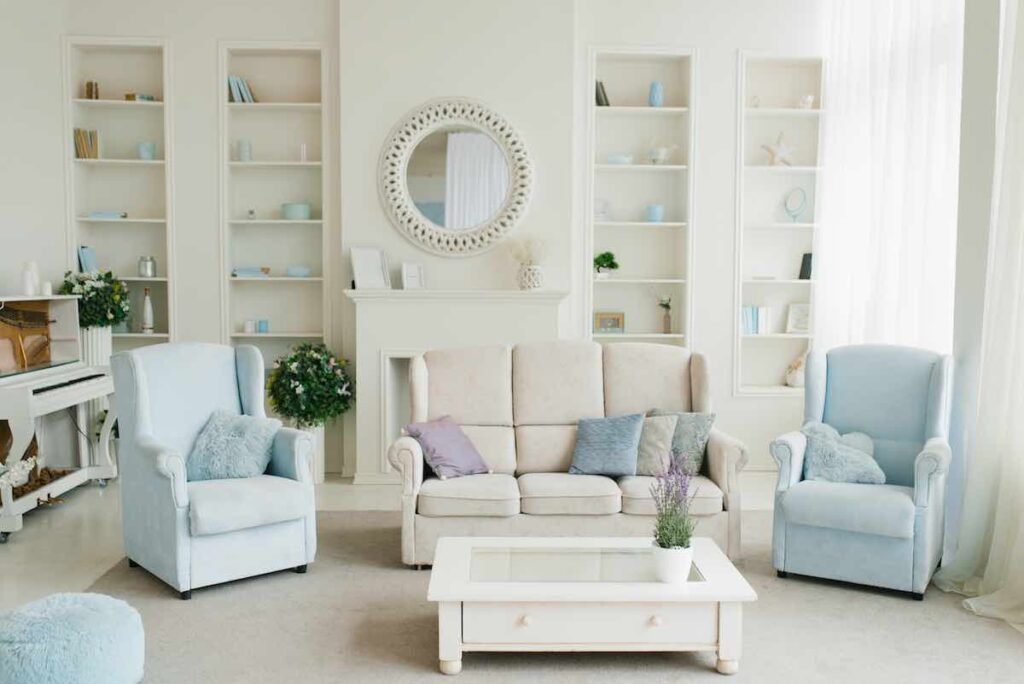 For a fresh, bright, and open look in your living room use bright white and sky blue. White paired with soft, sky blue feels airy and open. Here the fuzzy pillows add softness and keep the look cozy. The gauzy white curtains let in a lot of natural light and help the room feel open and bright.
To bring out the natural sky look even more obvious, pair sky blue with soft fluffy white rugs or pillows.
Use Florals
Florals are so versatile. You can use them to create a comfy, farmhouse style or a more elegant and sophisticated look. Using florals with your blue and white living room decorating ideas can add a sense of softness to a room that might otherwise feel harsh or uninviting.
Incorporate florals into your blue and white living room by using them as an accent in wall art or on your throw pillows. These pieces are easy to change out whenever you want to get a different look. To make a larger impact, try floral curtains or wallpaper.
Ways to Use Accents in a Blue and White Living Room
Accents are a great way to let your personality shine. Accents can be dramatic or subtle, standing out or blending in depending on the look you're going for. Read on for blue and white living room decorating ideas involving accents.
Using Pattern as an Accent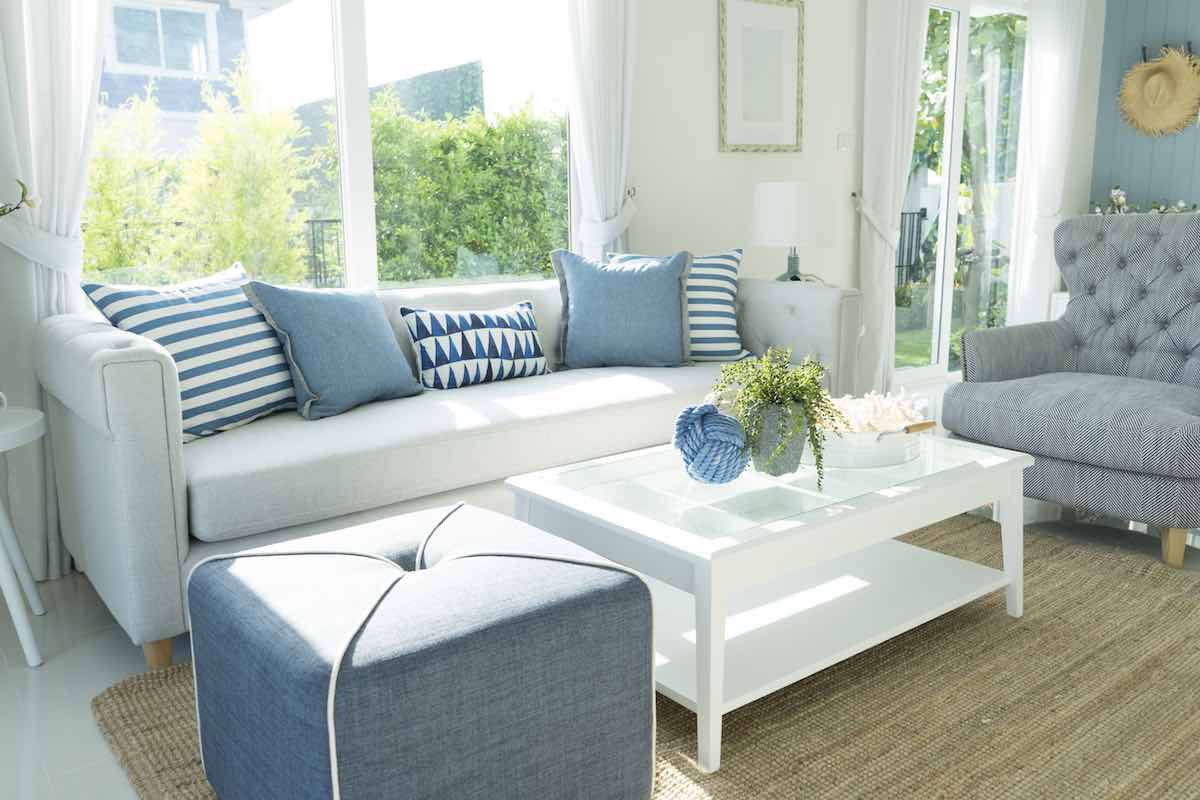 The modern stripe and geometric patterns on the sofa pillows give this living room a fresh and contemporary touch. For blue and white living room decorating ideas with some eye-catching textures, try using patterns! The white furnishings look crisp and fresh while the blue side chair and floor cushion balance the room and make it feel cozy and comfortable. It's the perfect balance of homey and sophisticated. An earthy tan rug adds to the cozy and approachable feel of this living room while the blue accent wall in a soothing gray-blue gives a sense of calm to the space.
Multiple Shades of Blue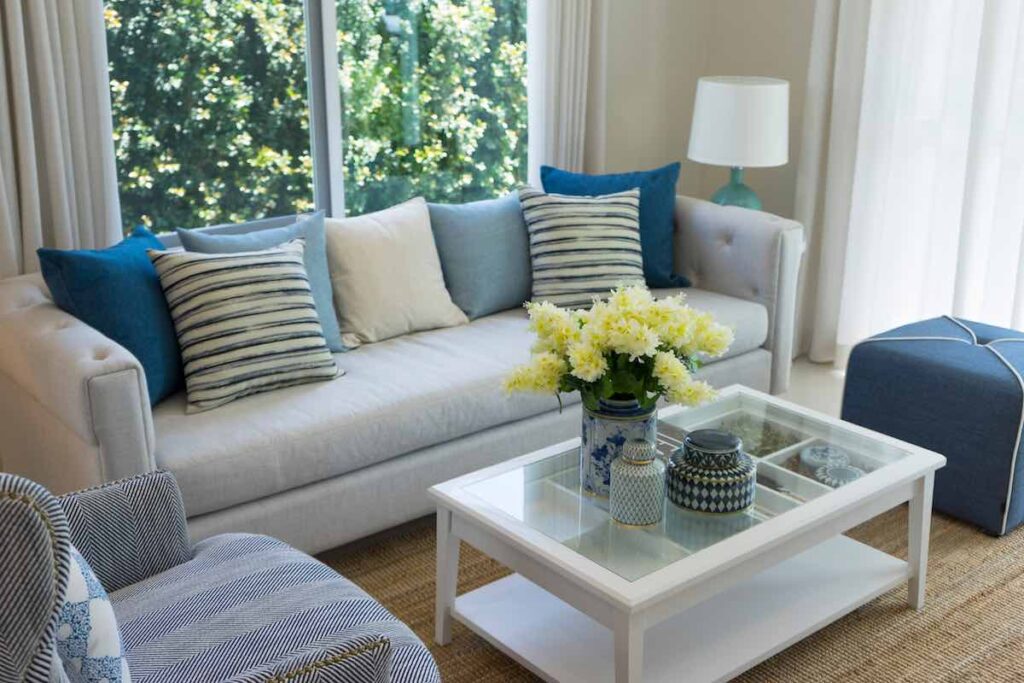 For a more varied set of blue and white living room decorating ideas, try multiple shades! A neutral white background makes these shades of blue stand out. Using several different shades of blue adds interest and keeps the room from looking too monochromatic. The white furnishings and neutral rug fade into the background while shades of blue in the pillows and accent pieces add interest without looking overdone. It's a simple color scheme that feels soothing and understated, but not boring.
Add Touches of Blue to a White Space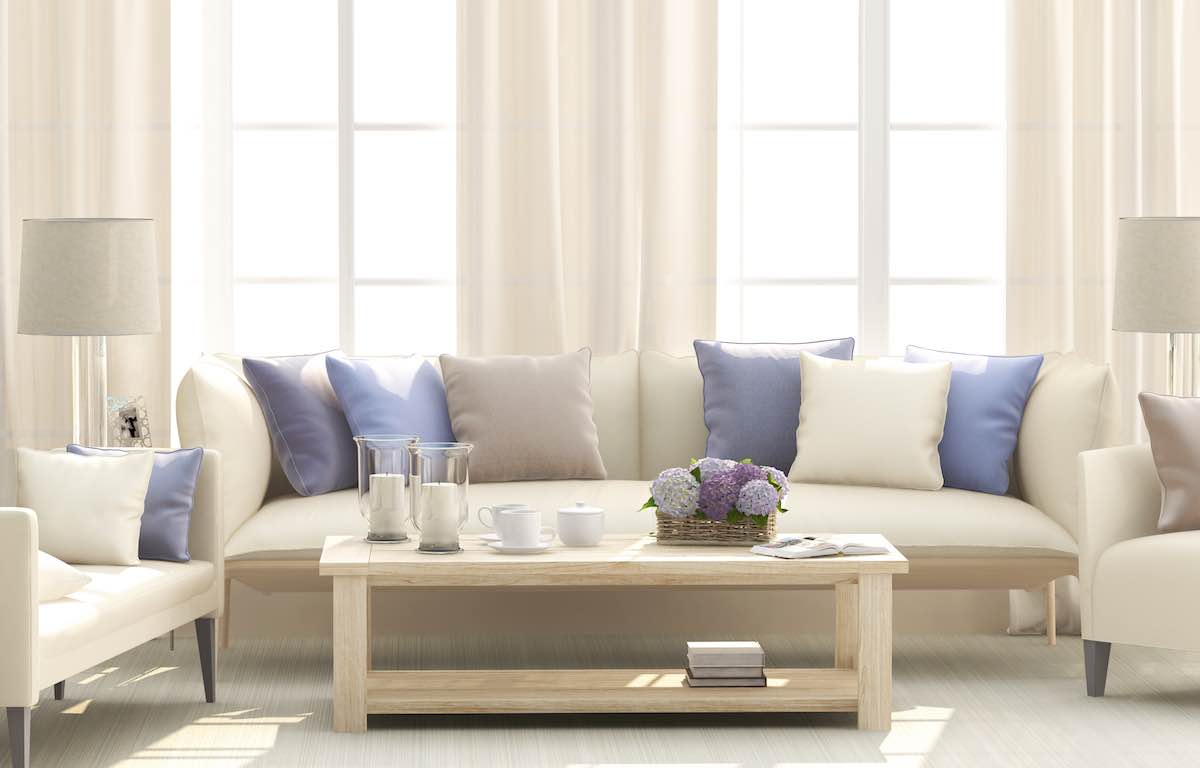 This living room is predominately white with small touches of blue. If you like a monochrome look but still want to have some color, try accenting an all-white palette with just a little bit of blue. Here blue throw pillows and flowers break up the monochromatic white living room with a pop of subtle color. The hint of blue looks sophisticated and softens the look of the room making it feel more inviting and keeping the space from looking too formal.
Accent a Neutral Blue and White Living Room with Other Colors
Blue and white living room decorating ideas go well with many other colors as they can act like neutrals, letting other colors pop. In this living room, green and brown feels grown up with brilliant blue furnishings. The white paint on the walls is a perfect neutral background for the wall art, helping it to stand out. Light-colored flooring keeps the room looking bright and fresh while the rug helps bring in the seating area, making it feel more intimate.
When choosing an accent color you can pick whatever you like! Accent colors are a great way to add a personal touch to your living room. Choose a complementary color like green, or something that stands out like pink or yellow. Bringing in a bold color can add drama to your living room while a subtle color can add dimension in a more understated way.
Final Thoughts on Blue and White Living Room Decorating Ideas
You can use blue and white living room decorating ideas in many different ways to create the exact look and feel you want for your living room. Whether you're going for a comfortable farmhouse look or something modern and sophisticated, blue and white works well with a variety of different design styles. Most people spend a lot of time in the living room so why not decorate it in a way that you love! Which look was your favorite? We'd love to hear about it in the comments section below.
Need more living room decorating ideas? Check out 8 of the Best Yellow and Brown Living Room Decorating Ideas!
About the Author
Latest Posts
Sadie Teh is a DIY enthusiast, teacher, and writer with an eye for finding beauty in unexpected places. She believes that almost anything can be made beautiful with a fresh coat of paint and a bit of elbow grease.
Sadie has written for numerous blogs, websites, and newsletters. With a bachelor's degree in psychology and a master's in education, Sadie likes using her educational skills to teach others how to create beautiful projects of their own.
When she's not writing or working in the craft room, Sadie enjoys spending time outside with her family, working in the garden, or reading a good book.
Sadie can be reached at stehwriting@gmail.com