You've got your next home project planned, and it's time to paint. But where do you begin? The right paint sprayer for you can depend on the type of project you want to work on.
But choosing the best paint sprayer doesn't have to be difficult. Check out our top 5 picks for the best paint sprayer for home use and see which one is right for your next home project!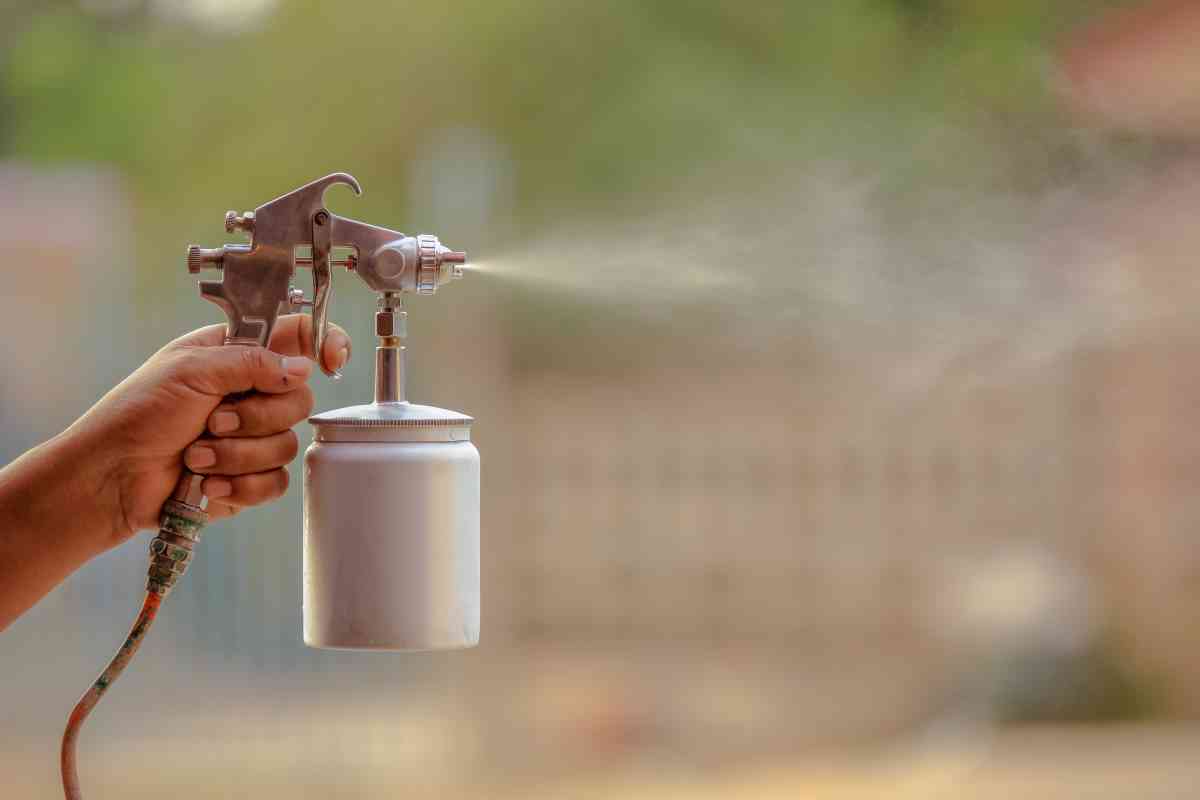 ---
---
Best Overall
The Graco Magnum is the perfect paint sprayer for DIY projects, both indoors and outdoors. The tank volume holds five gallons of paint, and it's made from stainless steel. The base weighs 19 pounds but stands easily on its own, so you can spray with both hands.
Included with the metal spray gun is a RAC IV 515 Switch Tip, 25 ft. Duraflex paint hose, Pump Armor storage fluid, PowerFlush adapter, Quick Start-Up Guide, and Operation Manual. The fluid outlet size is ¼ inches.
Pros
Well-made and durable
Exceptionally light-weight
Smooth and even spray
Cons
A garden hose is needed to clean it
Produces overspray
---
Best Budget
For a budget option paint sprayer, this provides all you need! The Yattich has 3 paint spray patterns and five nozzle sizes. The copper nozzles are less prone to clogging and give an even paint distribution.
Included is the Yattich Paint Sprayer, 1000 ml paint container, five different size nozzles, viscosity cup, Nozzle cleaning needle, cleaning brush, spanner, lid pot, and the User Manual.
Pros
Easy to clean
User friendly
Minimal dilution required
---
Best Cordless
This cordless airless handheld paint sprayer works well for small indoor or outdoor projects. The tank volume holds ¼ gallon of paint and the weight of the handheld sprayer is 11 pounds. A special feature of this paint sprayer is that it's powered by DEWALT XR Lithium Ion System.
Included is the RAC X FFLP 514 tip, two DeWalt 20V Max Compact 2.0 Ah XR lithium-ion batteries, charger, four 32 Oz. FlexLiner bags, and a storage bag.
Pros
Gives an excellent finish
Overspray is minimal
Easy set up
Cons
Needs refilled often
Assure you have the correct tips before using
---
Best for Large Areas
This HVLP paint sprayer will give you a professional finish with little overspray and is also a great paint sprayer for DIY projects. The paint sprayer controls will allow you to adjust the sprayer pattern from ½ to 12 inches wide.
The tank volume holds six cups of paint, and the sprayer weighs 11 pounds.
Included is a Control Max sprayer, 1 qt. metal cup, 1.5 qt. plastic cup, 20 ft. hose, viscosity cup, and user manual.
Pros
Easy clean up
Applies paint efficiently
Light-weight
Cons
Complaints of paint splattering and uneven finish
---
Best for Furniture
This at-home paint sprayer is great for projects from small to large. The air cap is adjustable for 3 spray pattern settings, and increasing or decreasing the paint flow is easy. This sprayer can use various paints, including chalk paint, enamels, and stains.
This lightweight paint sprayer weighs in at just 3 pounds.
Included is a Super Finish Max paint sprayer, container lid, cleaning brush, 4.0 mm nozzle and tip, 2.0 mm nozzle and tip, 1.5 mm nozzle and tip, wrench, wide spray pattern cap, and a fine spray pattern cap.
Pros
Works well
Handles tight angles well
Simple to adjust the pressure
---
Best Paint Sprayer for Home Use Buyer's Guide
Types of At-Home Paint Sprayers:
There are three types of at-home paint sprayers
Airless Paint Sprayers
Airless paint sprayers are the best for large projects because they use an electric pump to spray. This means the paint never mixes with the air, allowing it to put out more paint at one time.
Pneumatic Paint Sprayers
Pneumatic paint sprayers tend to be the most affordable option but do require an air compressor to use. These are usually the easiest to use for beginners.
HVLP
High-velocity, low-pressure (HVLP) paint sprayers are also more affordable. Because they use low pressure to spray, they are safer than other paint sprayers. These work well for small or medium-sized projects.
Considerations for Your Paint Sprayer:
Cost is a big factor when choosing the best paint sprayer for home use. If you know you'll be using it long-term, on many projects, it might be wise to spend a little more on your paint sprayer. However, if this is for a single project, you might want to save a few extra dollars and choose the budget option paint sprayer.
Another consideration for the best paint sprayer for home use is the size of the sprayer that you purchase. The smaller the sprayer, the more often you'll need to refill the paint while working on your project. If this will be frustrating for you, consider purchasing a larger tank volume-sized sprayer.
The special features of the sprayer are also something a homeowner will want to consider. If you need your sprayer to be portable, be sure to look for one that can easily be transported. Some sprayers have settings for the thickness of the spray, the speed, and the pattern.
And you'll want to decide how your sprayer is powered. If it's electric, you may be stuck near a wall outlet. However, if it has a rechargeable battery, you may need to stop working for the day to recharge!
---
How to Use an At-Home Paint Sprayer
Step One: Choose the right paint sprayer for your project needs. Decide if the airless, pneumatic, or HVLP is right for you.
Step Two: Prepare all the necessary items to complete the project. This will include paint brushes, rollers, a face mask or safety goggles, painter's tape, and drop cloths. It's also a good idea to ensure proper ventilation in the room you'll be painting in. And check the weather before beginning your project. If it's too cold outside, the painter may get clogged. If it's too warm outside, the paint could dry too quickly and won't stick properly.
Step Three: Choose and prepare the paint. Check with the paint department where you purchase your paint for tips on which kind of paint works best for your specific sprayer and how to thin the paint properly before you begin.
Step Four: Don't forget to practice with your sprayer before you begin your project! Use some spare cardboard to practice on, holding the gun at various distances away to get accustomed to the feel of the paint sprayer.
Step Five: Paint your project! For an even coat, remember to spray straight on, without tilting your hand at an angle. Make a habit of wiping off the sprayer's tip every so often so it doesn't get clogged. Avoid storing paint in the sprayer for any period of time. Clean the sprayer thoroughly according to the manufacturer's directions as soon as you're done painting.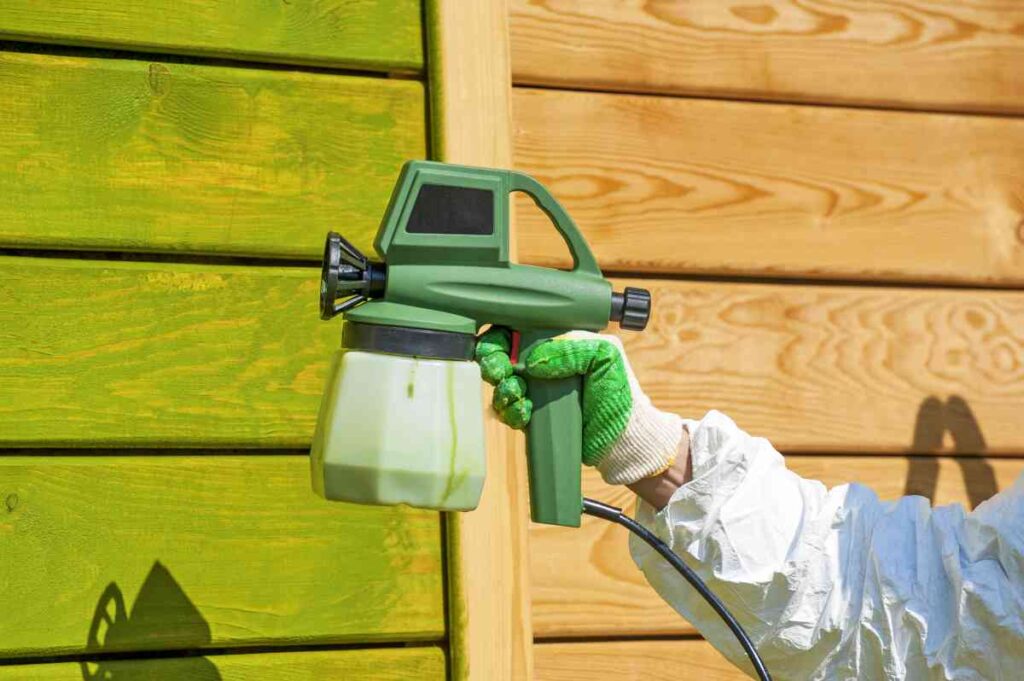 ---
Best Paint Sprayer For Home Use Frequently Asked Questions
Why should I use a paint sprayer?
Paint sprayers work well for large surface area projects or projects that have hard-to-paint areas and will save you time overall. Another good reason to use a paint sprayer would be to get a more even, professional-looking finish. If you have several more DIY projects planned, owning a paint sprayer for your multiple projects is a good idea.
How do I use my paint sprayer?
Every paint sprayer will be different, so you'll need to consult the User Manual or manufacturer for exact instructions. However, most paint sprayers are made to make the project of painting easier for the user. For the most part, you fill the tank with paint, point the nozzle where you want to paint, and pull the trigger.
Some sprayers require a specific amount of paint thinning, depending on the kind of paint you'll be using. Follow those instructions carefully to avoid frustration.
Can a beginner DIYer use a paint sprayer?
Using the best paint sprayer for home use doesn't need to be daunting. Many sprayers are user-friendly and work great for a first-time user. Be sure to get in lots of practice using it before you begin painting your project.
Have cardboard nearby to practice on, and adjust valves to get a feel for different air flows or spray patterns. Trying out the gun on scrap material will also help you understand how heavy the sprayer will be when actually working on your project. And it will help you identify how to avoid dripping paint or an obvious difference in paint coverage. Once you get the hang of it, move on to your project.
How much does a paint sprayer cost?
A paint sprayer can vary from $50-$2000 or more. Consider what you want to use your paint sprayer for and how many projects you'll be working on. Investing in a higher-end model that's a bit pricer might end up saving you money and frustration in the long run.
How should I maintain my paint sprayer?
Proper cleaning is a must if you want your best paint sprayer for home use to last long-term. Flush the entire system immediately after each use to prevent clogging or residue build-up. Using a protectant or lubricant on your paint sprayer is suggested to keep it in good working condition until the next use.
What size spray tips do I need?
You will need to adjust the spray tip size of your paint sprayer, depending on the size of your project and the type of paint you will be using. Check the User Manual or manufacturer to be sure you use the correct tip for the type of painting you will be doing. Some paint sprayers offer multiple options of tips, making it easier to use your paint sprayer for multiple projects.
Tip: Using every ounce of paint left at the bottom of a paint sprayer is impossible. Use the leftover paint for touch-ups and small sections you can paint by hand.
---
Which Paint Sprayer for Home Use is Right for Your Next Project?
Now that you know all about the best paint sprayers for home use, you can decide which will work best for your home project! It's time to relax and focus on choosing the right paint color, and what your next DIY project will be.
Looking for more information on painting furniture? Check out our Painting Furniture page to find everything you need to know!