Have a furniture refinishing project on your to-do list? Remember, it's not necessarily the paint color you select, but the type of paint you use that'll greatly affect the quality of your finished product.
For a DIY project to be considered a job well done, it shouldn't look like it was the byproduct of time, sweat, and intensive labor.
Rather, it should bear a clean finish that's smooth, even, and free of abrasions–and paint type plays a big part in achieving this desired look.
Keep reading to learn about the best paint for furniture refinishing, and what makes these five paints perfect for the job.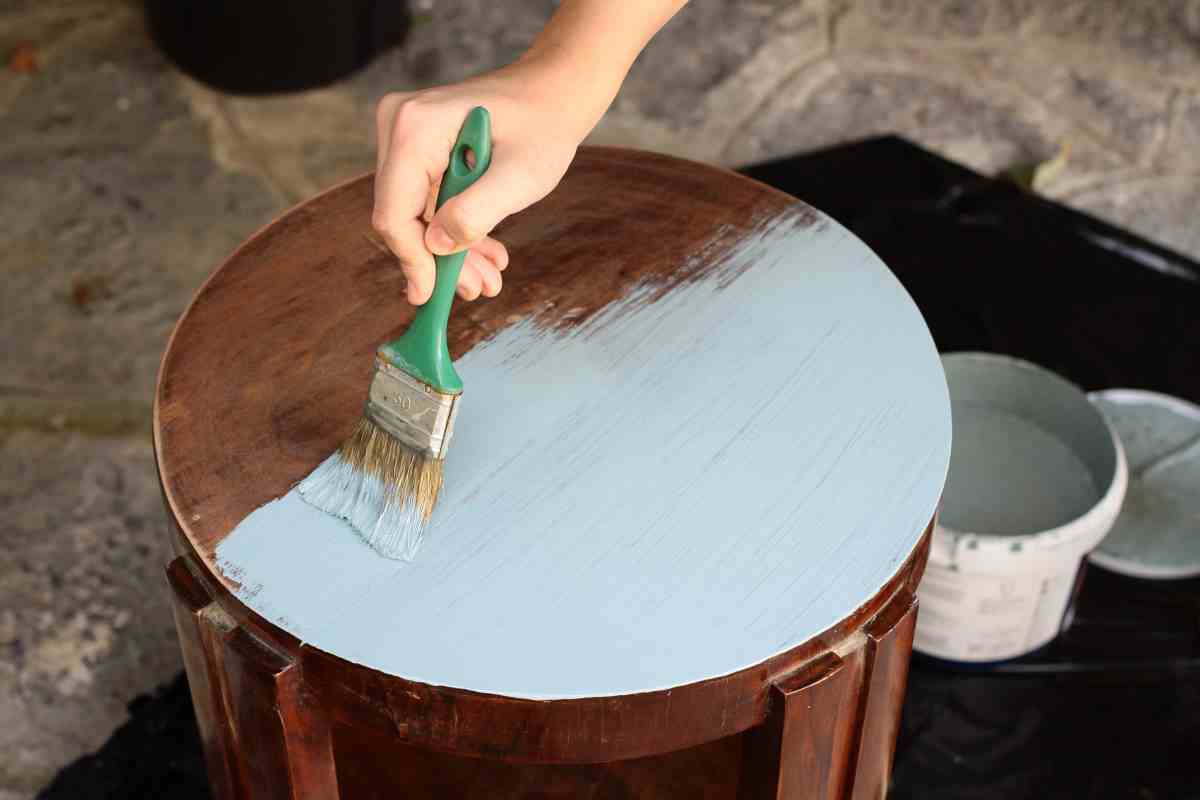 ---
Our Top Picks
Best Overall
Diamond Hard Interior/Exterior Satin Paint
Best Oil-Based Paint
Rust-Oleum Stops Rust Hammered Finish Paint
Budget Option
Rust-Oleum Painter's Touch 2X Ultra Cover Spray Paint
---
Best Overall
Diamond Hard Interior/Exterior Satin Paint is perfectly suited for the purpose of furniture refinishing, which is why this paint earns the top spot on our list.
This paint is specifically designed for a one-step process, meaning that it can stick without sanding or priming. This is an especially easy-to-use choice to achieve a professional finish that won't require tons of time or elbow grease to complete.
This paint can be used on various surfaces, including wood, metal, steel, aluminum, brick, drywall, glass, tile, vinyl, copper, masonry, and most plastics. Use it to repurpose furniture, kitchen and bathroom cabinetry, doors, wall trim, or any project you'd like!
Because it can be used on so many surfaces, you can utilize this paint to create a color scheme by matching several furniture pieces or accents in a room or throughout a home.
Available in eight colors, which include a dazzling golden dandelion, mocha, and midnight wave; it dries to a smooth, satin finish.
Because it's water-based, it dries faster than oil-based paints. It also doesn't emit the smelly fumes that oil-based paints are known for. Even better, water-based paint tends to be easier to find in stores, as it's more popularly used today.
Pros
Competitive price point
Can be used on various surfaces
Cons
Water-based paint may require more upkeep
Limited color palette
---
Best Oil-Based Paint
There are a handful of reasons why Rust-Oleum Stops Rust Hammered Finish Paint is recognized as the best oil-based paint for furniture refinishing on our list. One of the most standout reasons is that it's durable.
Although oil-based paint takes longer to dry than water-based paint, it provides a longer-lasting surface that's resistant to scratches and chips, as well as fading. Its toughness makes it ideal to use on furniture designated for indoor and outdoor use, or a bit of both.
And because of its higher resistance, this paint will hold up in high-moisture, humid conditions, which makes it suitable for both kitchens and bathrooms.
It's also the perfect paint for furniture refinishing in homes with young children and/or pets, where furniture can be subject to added wear and tear.
Rust-Oleum Hammered Finish Paint offers matte, gloss, and semi-gloss finishing options, so you can choose which look best suits your aesthetic.
Dark bronze leaves behind a solid and smooth finish, though there are several other neutrals to choose from, such as gray, black, and deep green.
In addition to wood, you can use this paint on metal, concrete, masonry, and more. When used on metal, this paint helps to hide abrasions and flaws caused by scratches and rust.
Pros
Durable and long-lasting; great for indoor and outdoor use
Competitive price point
Cons
Limited color palette
Oil-based paints are becoming more difficult to find than water-based paints
Longer drying time required
---
Budget Option
When the goal is to find paint for furniture refinishing at a budget-friendly price, look no further than Rust-Oleum Painter's Touch 2X Ultra Cover Paint Spray.
This spray paint is made from an oil-based formula that's long-lasting and has minimal odor. It dries to the touch in just 20 minutes, and each can covers up to 12 square feet.
The durable formula goes on smoothly and provides long-lasting protection that resists chipping. It leaves a gloss finish that provides a fresh, new look for new and refurbished surfaces.
This product is ideal for use on both interior and exterior surfaces. The paint adheres to wood, plastic, plaster, metal, masonry, wicker, and unglazed ceramic.
Pros
Designed for use on multiple surfaces
Bundle available at a competitive price point
Dries to the touch in 20 minutes
Cons
Spray painting requires a more particular means of application than painting via a brush
Application method may not be some users' preference
---
Best for Vintage Aesthetic
If it's an old-fashioned finish that you're after, you'll want to check out Shabby Chic Chalked Furniture Paint.
Available in 8.5 ounces, this paint is non-toxic and offers long-lasting durability with little to no prep work. Made in the United Kingdom, this water-based paint provides supreme coverage; a little bit of paint goes a long way.
Choose this paint for furniture refinishing to achieve a shabby chic design with a distressed, imperfect finish. It's the perfect paint to use to breathe new life into a vanity, end table, crib, or dresser, and to make unique accents out of picture frames, without the need for primer.
Suitable for interior and exterior projects, this paint can be used on wooden furniture, metal, plastic, brick, stone, and plaster.
Available in a wide array of colors, it's also a safer alternative to work with. It is low odor with ultra-low VOCs, and contains no harsh chemicals like phthalates, formaldehyde, heavy metals, or solvents.
Pros
Available in 35 appealing colors
Designed for use on multiple surfaces
Doesn't contain harsh chemicals
Cons
On the pricier side
Non-wood surfaces require use of a primer first
---
Best for Minimally Used Furniture
If you have a piece of furniture that you plan to use as an accent piece, but don't intend to get much hands-on use out of, opt for a latex-based paint like the COLORmaxx Acrylic Latex Brush-On Paint from Krylon.
Latex-based paint does a good job of hiding surface flaws without adding the layer of thickness that water- or oil-based paints do.
Because an accent piece doesn't tend to see much wear and tear, you won't need to worry as much about surface protection as with other high-traffic pieces.
This paint offers easy application and leaves behind a smooth finish. It's dry to the touch in an hour, and half a pint of paint covers up to 25 square feet.
It cleans easily with soap and water, and leaves behind a shiny sheen, gloss finish that offers a modern look to any project.
Ideal for both indoor and outdoor projects, ColorMaxx can be used on wood, metal, wicker, plastics, ceramic, wrought iron, drywall, and masonry.
Pros
Strong adhesion
Designed for use on multiple surfaces
Dries to the touch in an hour
Cons
Higher price point
Not as durable
---
Best Paint for Furniture Refinishing Buyer's Guide
When choosing the right paint for furniture refinishing, there are a few characteristics you should consider aside from strictly price and color. Here are some of the most important factors you'll want to take note of.
Oil- or Water-Based
There are a few notable differences between oil- and water-based paints.
The most outstanding characteristic is the smell. You'll notice that oil-based paints have a typical paint smell, whereas water-based paints don't. This is due to the presence of minerals in the paint solvent, which can emit harmful chemicals like VOCs, phthalates, and other chemicals.
If you're painting indoors or in an area without adequate ventilation, and/or in the presence of young children, elderly folks, and pets, water-based paints are a safer alternative.
On the contrary, oil-based paints leave behind a glossier finish than water-based paints. If this is the look you wish to achieve, you'll want to choose this paint type.
Oil-based paints also have a higher resilience and are more durable against scratches and abrasions.
Water-based paints, on the other hand, are easier to clean, have a faster dry time, and are resistant to staining and mildew.
Intended Use
The paint you choose should also be contingent on the item's intended use.
Your intended use may include indoor or outdoor environments; high-moisture conditions, such as bathrooms and kitchens; or high-traffic areas versus low-traffic areas.
While some furniture pieces may be used frequently, like a dining room table or bedside dresser, others may serve as accent pieces. The location, climate condition, and frequency of use should influence your paint type.
Surface Area
All of the above-mentioned paints are available in different amounts, which is relevant depending on the type of project you're working on. If you're painting a larger surface area, such as a dresser, you'll need more paint than you would for a picture frame.
Take note of the amount of paint and the amount that you'll need for the job.
Finish
Paint for refinishing furniture comes in a variety of different sheens: matte/flat, satin, semi-gloss, and gloss. Note the difference between the finishes and which one best matches the aesthetic you're looking to achieve.
---
Paint for Furniture Refinishing Frequently Asked Questions
How many coats of paint does furniture need?
For ideal coverage, plan to apply at least two coats of paint to your furniture piece. Oftentimes less is more, so allow the furniture time to dry before deciding to move forward with another coat.
When adding multiple coats, you want to avoid applying the paint too quickly in between coats, as it can cause the paint to dry with droplets or an uneven appearance due to excess product.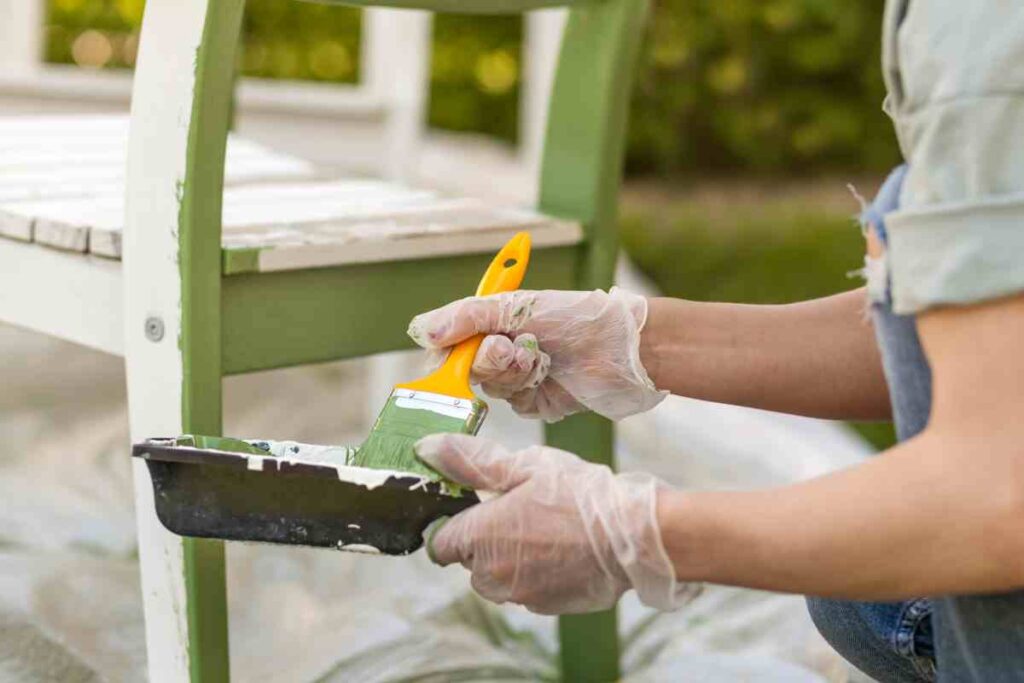 Do I need to sand before repainting old furniture?
If you're refinishing furniture that's already been painted, you may be able to get away with simply adding a new coat without sanding down the previous one. As long as the original paint coat is still solid and isn't flaking or chipping, it's possible to achieve a smooth, seamless finish with your new paint.
For more information on this, check out our page, How to Paint Furniture Without Sanding.
---
Wrapping up Paint for Furniture Refinishing
You can totally refresh an old piece of furniture with a fresh coat of paint.
Depending on the paint color, type, and sheen, the final product can look entirely different, transforming from outdated to purposely vintage or sleek and modern.
Try out any of the paints in our list, like the Diamond Hard Interior/Exterior Satin Paint, for a satisfying, clean finish that you'll be proud to show off.
Want to learn more about how to jazz up your old furniture? Check out our page, 10 Creative Furniture Painting Techniques to Transform Your Home Decor, to learn more!