Giving your bathroom a makeover can be a rewarding experience that increases the value of your home while also breathing some new life into a tired room. Nothing can make a bathroom look new like a paint job. There are many options on the market when it comes to paints, so we will give you our top 5 picks for the best paint for bathrooms.
The key differences between paints are coverage, use, and finish. Finish is going to be a matter of opinion, so when looking for the best paint for bathrooms we are looking at coverage, use, and ease of application (which translates to cleanup and adhesion).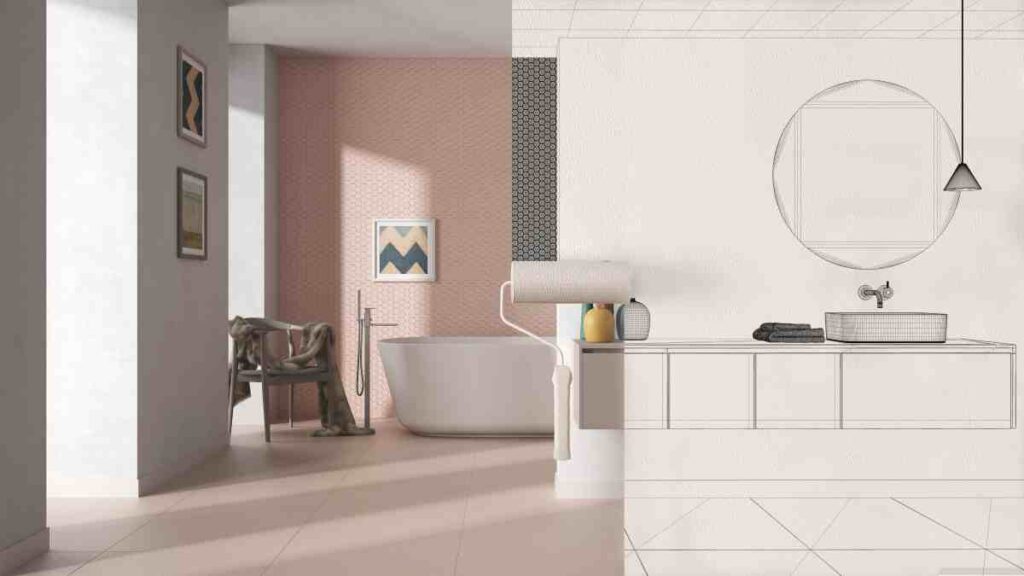 ---
Our Top Picks
Best Overall
Prestige Paints Interior
Budget Option
Montage Signature
Best Mold Killing Primer
Rustoleum Mold Killing Primer
Best for Cabinets and Trim
Rustoleum Transformations Basics Cabinet Paint
Best Chalk Paint
Rustoleum Interior Chalked Paint
---
Best Overall
If you are looking for a high-quality paint for your walls, Prestige Paints Interior is a great option. This is our overall best paint for bathrooms due to its good coverage, ease of use and cleanup (paint thinner will help cleanup dried paint) and color options.
Prestige Paints goes on smooth and doesn't take any special prep work. If you are applying a light color over a dark one, you will want to use primer, but otherwise you can apply it directly to your walls in a few coats.
Prestige Paints will cover most standard-sized bathrooms with a single can, meaning it won't break the bank. For most people, this will be the best paint for bathrooms and you should be able to finish the project in a single day. You will likely need to apply 2-3 coats without primer, or 1-2 with primer. The only downside is this paint is more expensive than some others on our list, and is not great for trim or vanities.
Pros
Easy to apply and covers a large area
Smooth finish and plenty of colors
Perfect for beginner to intermediate painters
Cons
More expensive than some other options
Not ideal for vanity and trim
---
Budget Option
If you are shopping for the best paint for bathrooms but on a budget, look no further than Montage Signature paint. This is a great option for the DIYer on a tight budget.
With a cheaper paint comes more prep work. This paint won't hide imperfections as well as others, and using a primer ahead of time defeats the purpose of a budget paint. As an alternative, consider sanding down old paint on your walls, and ensuring they are clean without uneven surfaces or imperfections.
The key to using a cheaper paint like Montage Signature paint when looking for paint for your bathroom is all in the prep work.
It will look just as good as a more expensive option if you put the time into making sure you have ideal surfaces for adhesion and a smooth finish. Also plan on doing 3-4 coats given it has worse coverage than other paints.
Pros
Cost
Mold and mildew resistant
Ecofriendly
Cons
Will require additional prep work for a good finish
More coats necessary because it is a thinner paint
Not good for vanity or trim
---
Best Mold Killing Primer
If you have a damp bathroom, you may have mold or be susceptible to mold. If you are, you should look into using a mold killing primer. We suggest using Zinsser Mold Killing Primer to help prevent the growth of, and kill any existing, mold. Even if you don't have mold, Zinsser Mold Killing Primer is our choice for one of the best paints for bathrooms because it is a good quality primer that will give you piece of mind with mold growth.
A primer creates a better adhesion point for paint, as well as covering up old paint and helping to smooth out uneven surfaces. This will give you a much better-finished product. While it's not always necessary to use primer, it does guarantee a better outcome, and using a mold killing primer such as Zinsser Mold Killing Primer is a great for ensuring no future mold growth.
Using this product is a little more difficult than a standard paint. Primer goes on thicker and can be stickier, which means you want to clean up immediately if you have a spill. It also means that, for bigger bathrooms, you may need more than one can. Even with these downsides, a primer is a great idea to ensure your project turns out the way you want it.
Pros
Kills mold and prevents the growth
Creates a great surface for your painting
Very sticky and may only require a single coat
Cons
Expensive
Stickiness makes clean up harder
In a damp bathroom will take longer to dry
---
Best for Cabinets and Trim
Walls aren't the only thing in to paint in your bathroom. If you want to cover your vanity or trim, you will want to get a paint designed for those materials, which differ from the drywall used on your walls. Our list of best paints for your bathroom wouldn't be complete without Rustoleum Transformations Basic Cabinet and Trim Paint.
This paint is formulated specifically for painting a vanity and trim. If your vanity or trim are in good shape and not a very dark color, you can apply this paint without primer and get a great finish. It is a great option for painting your bathroom accent pieces to compliment your newly painted walls.
This paint is expensive compared to some others on the list, so if possible buy a smaller can unless you have a lot of material to cover. Most bathroom vanities and trim will not require more than 2 coats. If you have peeling paint or damage you should sand / fill any dents first before you paint.
Pros
Great for vanity and trim
Easily applied
Little to no prep work
Cons
Expensive for trim and vanity only
Not great for walls
---
Best Chalk Paint
The last item on our list of the top 5 best paints for bathrooms is Rustoleum Chalked Acrylic Paint. This is a chalk paint which means it has an ultra-matte finish. Chalk paint dries very quickly and can cover an entire bathroom in one coat, meaning the job can take less time. The flip side is that it is more expensive than other paints.
Chalk paint is a great choice for best paints for bathrooms because it works on any surface, so if you want your walls and trim or walls and vanity to match, you only need to buy one paint. It also (generally) does not require a primer, though you may still want to use one if your walls are in bad shape or very dark.
The ultra matte finish offered by Rustoleum Chalked Acrylic Paint is unique to chalk paint and is becoming more popular with homeowners. It is very thick, so when applying it, you want to use a roller and make sure you don't have spills or drips. The thickness makes it less forgiving than some other paints.
Pros
Gives a unique matte finish
Huge coverage amount, and thickness means you only need one coat for most applications
Can go on a variety of surfaces
Cons
Expensive
Harder to work with due to its thickness and quick drying
Less forgiving
---
Bathroom Paint Buyer's Guide
When shopping for the best paint for bathrooms you want to consider a few things. Firstly, do you want a primer or mold killer under your paint? This is especially important if you have a damp bathroom, or your walls are going from dark to light.
If you are painting your vanity and trim, you likely want a paint formulated for that unless you are using a chalk paint. A chalk paint will have an ultra matte finish, so if you want a gloss or semi-gloss it may not be the right choice for you.
Each paint has different drying times and adhesion. Generally, a cheaper paint may not cover as much (worse adhesion) or take longer to dry due to higher water content. A good paint will allow you to do multiple coats in a single day, and paint an entire bathroom in a single day. No matter what, make sure you choose the best product for your project, and you will be happy with the outcome.
---
Best Paint for Your Bathroom
There are many options on the market when it comes to paints for bathrooms, but our list of top choices should help you narrow down the field. Whether you want a great all-purpose paint, an inexpensive option, a primer, vanity and trim paint, or chalk paint, our list has you covered.
You should pick the best paint for your bathroom situation – if your bathroom is damp, use a mold killer; if you want to paint your vanity and trim, use a paint formulated for that. This will help guarantee success. Choose the paint that fits your project and budget, and never skip the prep work.
For more great DIY ideas, check out That Sweet Tea Life!