Are you feeling overwhelmed with picture-perfect photos and interior decorating sites that leave you feeling like you need to run to the store, spend a bunch of money, and redo your window space? Maybe you've just moved and never had experience with these upgrades?
When it comes to different house styles, bay windows can be attractive ways to enhance a room. However, while beautiful, one might be troubled with how exactly to decorate a bay window. Keep reading as we share some simple bay window decorating ideas that stand out from the rest and are also beautiful and functional!
Inspired and ready to begin? Let's start exploring!
The Basics of a Bay Window
First, before discussing bay window decorating ideas, let's briefly talk about these elegant home upgrades.
Bay windows originated in the San Fransico bay area and were introduced as upgrades. However, the name "bay window" can be misleading. It's not a solid window but rather a series of three joining windows that form a solid unit. Contractors build bay windows by setting three or more windows at protruding angles that then stick out from the main walls of your home, creating an area referred to as a bay window.
How Do You Decorate Rooms with Bay Windows?
Bay windows are gorgeous home upgrades you should never ignore. However, sometimes it can be difficult to dream up bay window decorating ideas without research, and we're here to help!
Make sure to incorporate the layout and design of your room while developing the designed space of your bay window. We know with the right accents; you'll be pleased to find these windows will marvel your spaces.
Keeping a straightforward approach gives you the biggest impact when decorating a bay window. For example, you could use wallpaper or accent paint to enhance your bay window instead of adding furniture pieces.
What Are The Best Window Treatments for Bay Windows?
Sometimes the best bay window decorating ideas are as simple as adding light filtering curtains, roman shades, and even blinds or plantation shutters. However, adding window treatments alone will completely transform and upgrade a room. If you're a big fan of open windows, zero treatments, and maximum natural light, this to the best choice overall. Keep in mind privacy is essential for everyday modern living, so we recommend window treatments!
23 Best Bay Window Decorating Ideas
Let's look at some of the top bay window decorating ideas to inspire you!
1. A Bar Cart Lounge Area
Did you know one of the most superb bay window decorating ideas is to add a bar cart? Adding a simple bar cart and pair of accent chairs is a perfect way to transform your space tastefully. This idea gives you an outside view while doubling as storage for your coffee or cocktails. So, sit back, prop your feet up, unwind, and enjoy a drink!
2. Perfect Bedroom Sitting or Reading Nook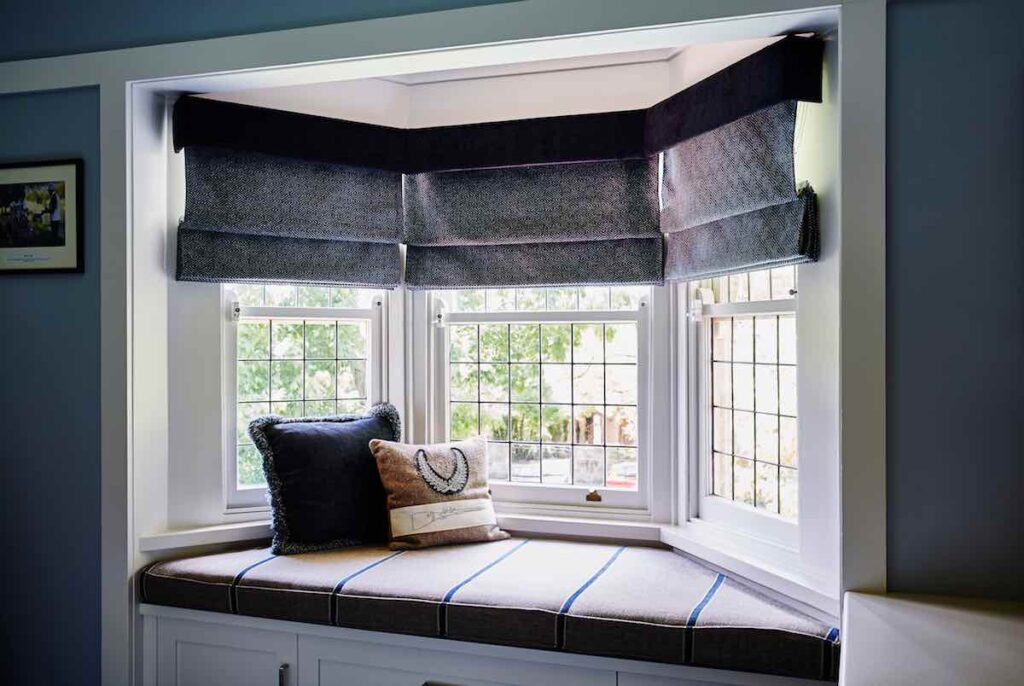 Next on our list of bay window decorating ideas is to form a sitting area in your bedroom with an oversized chair draped with a cozy blanket. You could also create the perfect little reading nook by defining the space with a few comfortable yet stylish chairs and a simple accent table.
3. Charming Bay Window Breakfast Nook
A bay window breakfast nook is the perfect bay window decorating idea, especially if you need a breakfast area in your kitchen and are out of wall space. Use a small cafe-style dining table with two to four chairs, depending on the size. Decorate your table with full sun indoor plants or a vase of flowers, making this option beautiful, functional and straightforward.
4. Using Decorative Pillows and Hanging Plants To Create a Mini Oasis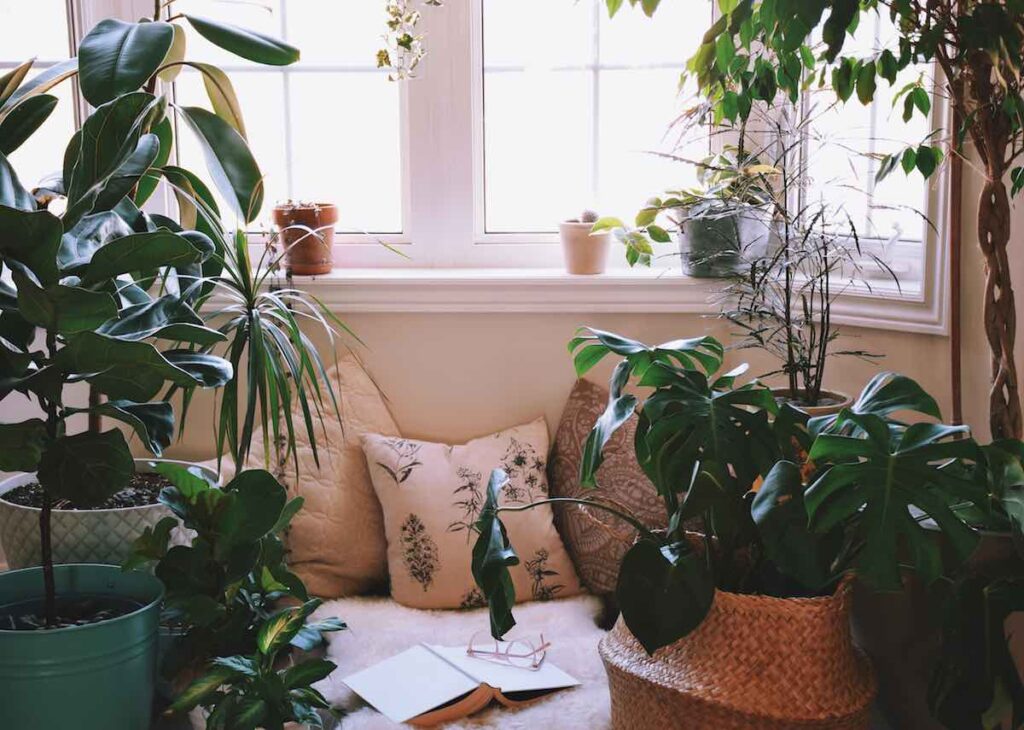 Do you have a bay window area that also features a ledge? Do you have children and pets and can't put a handful of fragile trinkets out or plants low to the ground? Then, we have the perfect bay window decorating idea for you!
Layer and prop up accent pillows to create an inviting, cozy seating area. Hang above a few hanging house plants to help purify your air and add some life to your space. Due to the large windows, your plants will thank you and love their new home.
5. Tuck a Console Into Your Bay Window Nook
Another great functional bay window decorating idea is using a sideboard or console and tucking it directly under the center windows, creating a nook. Use your sideboard to display special occasion dishes or everyday dishes or give you additional storage. You could also use these shelves to hold trinkets, plants, and old books to create a cozy and fashionable ambiance.
6. Perfect Homework Space In a Kid's Room or Guest Room
Do you have a bay window in a kid's or guest room? A few bay window decorating ideas we suggest for these spaces are using a simple writing desk and a stylish kitchen chair. Create the perfect homework space for your kids or a writing area for your guests! They will have room to write while enjoying the outdoor views and natural sunlight.
7. Bay Window Nook Workout Zone
Are you looking for a great workout zone? Try a bay window decorating idea of putting an elliptical or another workout machine in front of your bay window. Now you can exercise while viewing the outdoors, have a feel of the outdoors, and never worry about the weather!
8. Stunning Places to Showcase A Grand Piano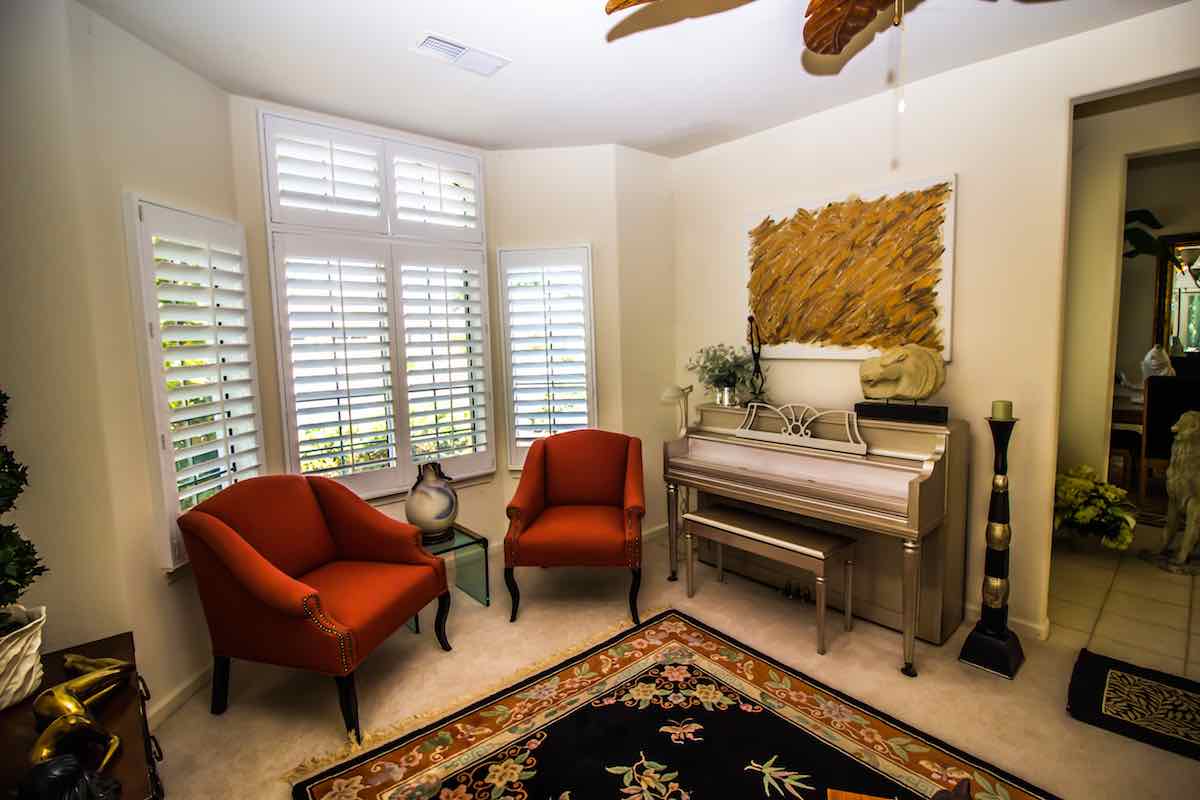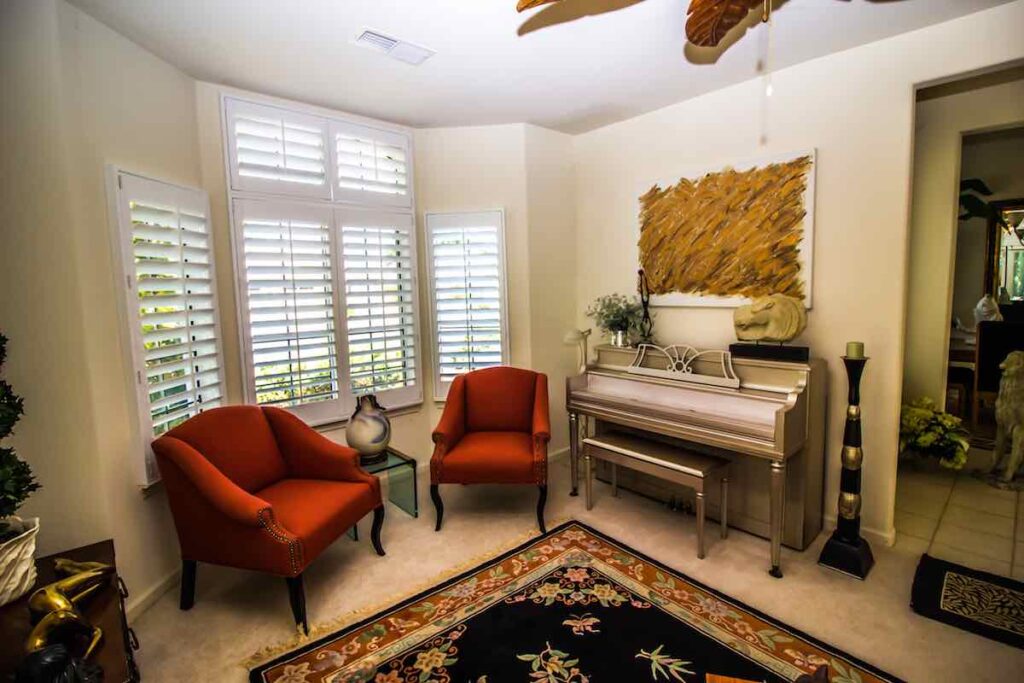 We feel a gorgeous bay window decorating idea would be to showcase a classical grand piano. So, if you own one of these beauties, we encourage you to consider centering your grand piano in your bay window, standing back, and admiring the elegance!
9. Bay Window Painting Nook or Simple Crafting Center
Are you an artist and enjoy painting? Get inspired by nature by setting up an easel and create a simple painting nook or small craft center under your bay window. Pick simple, clean lines and a classic wooden easel if you choose this idea. Since it will be an open concept, you'll likely face the challenge of mess and clutter.
10. Cozy Bedroom Space for Your Pets
Do you like to spoil your fur babies? After all, animals become part of the family and are essential mood boosters. A cute bay window decorating idea would be to create a room of their own by adding a fancy bed, food dish, and toy basket underneath. Your pet will surely enjoy lying in the sun in their brand-new space.
11. Hang and Showcase Your Guitars
Being a Tennesee native, I can envision how a bay window featuring in-between wall space would be a perfect spot to showcase your collection of acoustic guitars. Stores, such as Amazon, carry wall stands perfect for this bay window decorating idea!
12. Mini Library With Half Height Bookcases and Seating
Have you ever thought about a mini library as a bay window decorating idea? If you love to read, this idea would be perfect. Use solid wood half-height bookcases, apply a seat cushion on top, a few stylish accent pillows, and store books below.
13. Simple Scenic Window Seats
If you like classic, clean, and simple, you'll love the idea of adding an indoor tree and bench with a comfortable cushion below your bay window. Simple, minimal, and cozy! What's not to love?
14. Floor To Ceiling Bay Window Sun Room
Not all bay windows feature ledges or "wall" like cutouts. Sometimes you'll find bay windows to feature floor-to-ceiling windows. In this case, you can still place simple furniture pieces close to the windows. Some people prefer the simplicity of natural light and a full sunlight indoor tree only.
15. Hanging A Swing Hammock or Adding an Egg Chair
We've seen a new trend of hanging swing hammocks indoors this past year! If you enjoy most bay window decorating ideas leaning towards a natural or boho theme, hanging a swing hammock from the ceiling for a simple relaxing area may be the right look for you.
If you prefer to avoid hanging things from the ceiling, an alternative boho look could be setting up additional seating with an egg chair.
16. Oversized Chairs or Small Couches
A cozy and functional bay window decorating idea is using a one-and-a-half chair or small apartment-sized couch under your bay window. This approach decorates the space and organically adds an extra seating area.
17. Perfect Place For A Kitchen Sink or Bathtub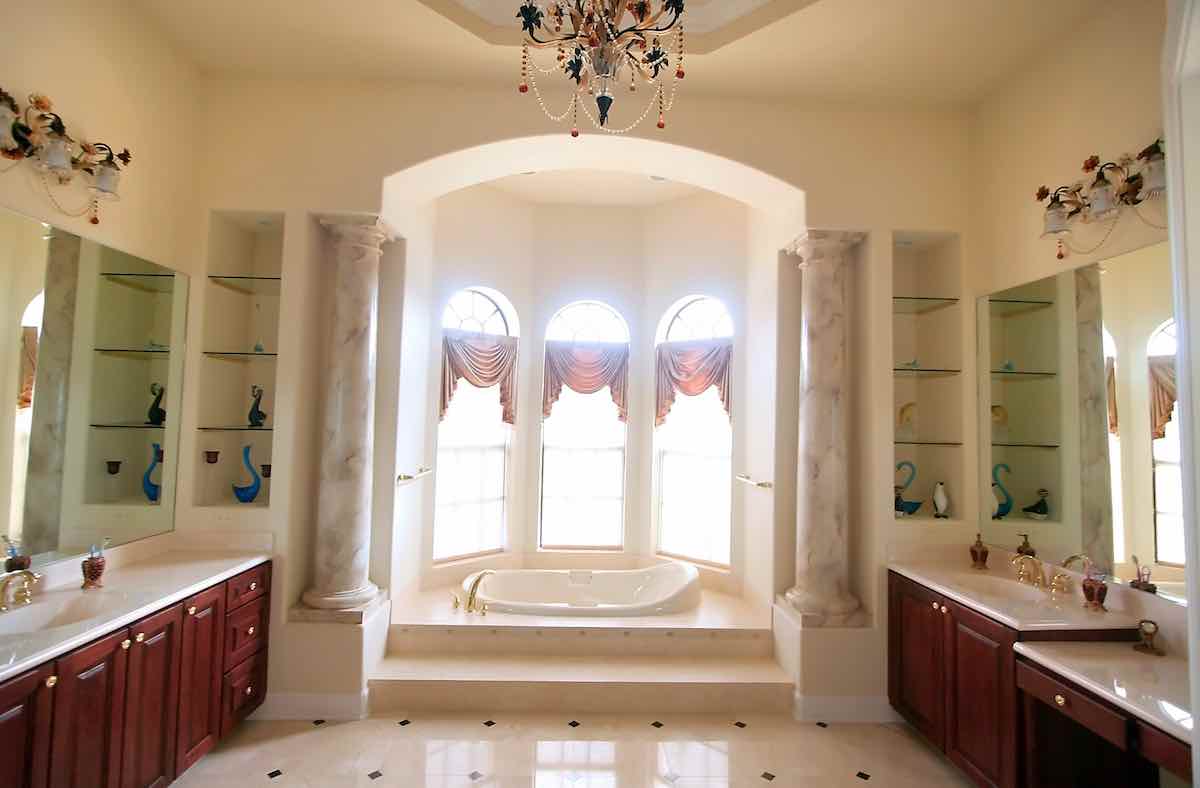 Consider adding a bay window area above your kitchen sink. Not only will there be a future selling point, but you'll enjoy doing the dishes so much more while looking outside!
Bay windows also can be great for showcasing a jacuzzi or claw styled tub, but make sure to add at least sheer curtains for extra privacy!
18. Built In Desk and Office Space
More and more people are taking remote work positions. You'll need an office or solid desk space if you work from home. Use a bay window to place a laptop desk and simple desk accessories to create a great office space with scenery!
Ledge Bay Window Decorating Ideas
19. Air Purifying Plants
Plants liven up all areas and fit our list well of bay window decorating ideas! Not only will plants brighten up your bay window ledge, but they will also get the full sun they need while providing you with air purifying capabilities!
20. Using the Style Rule of Odd Numbers and Heights
No matter what bay window decorating ideas stick with you on our list, the best ways to decorate are using the styling rule of odd numbers. When decorating any shelf, counter, or ledge, choose your decor in orderly combinations of heights, and group in ones, threes, or fives to receive stunning results.
21. Neutral Is Best!
Why neutrals? Because no matter what accent colors you later choose, sticking with neutrals on main items such as furniture, rugs, and permanent fixtures will save you the time, trouble, and cost of needing to redo your space whenever you want to change up your color scheme.
22. String Light Curtains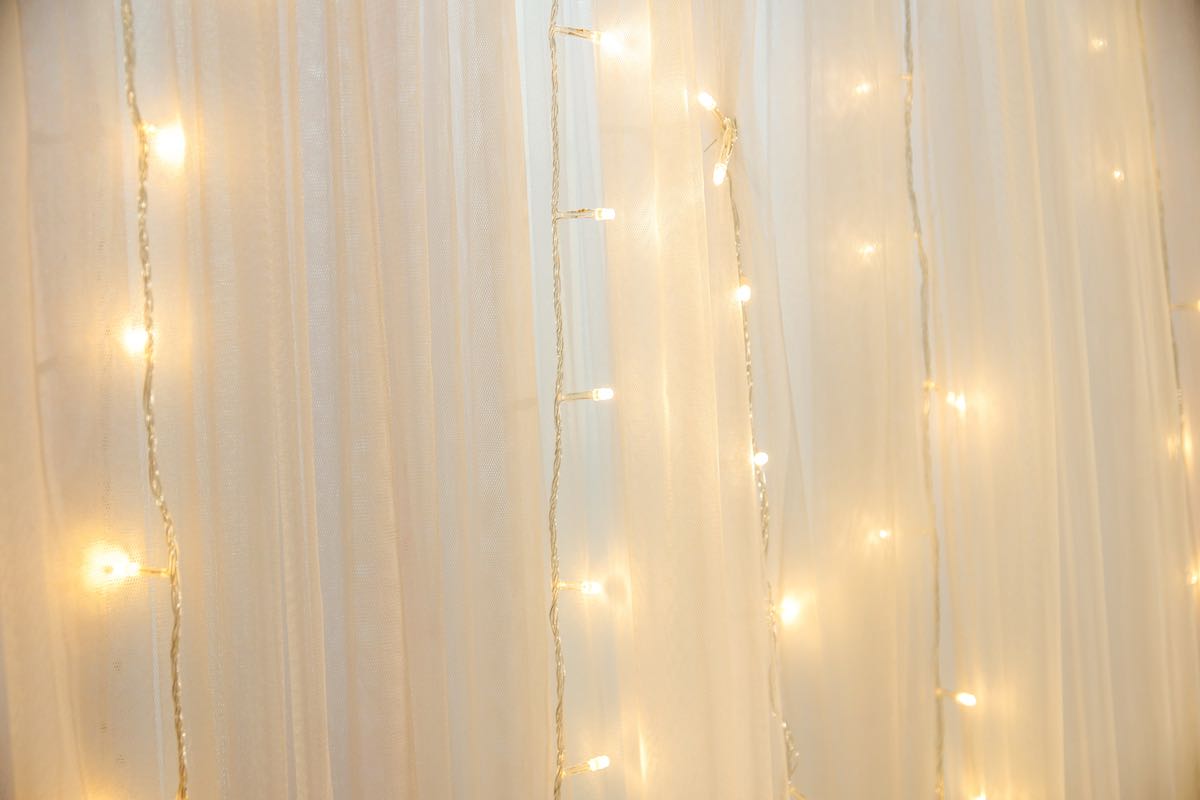 Want a bay window decorating idea that's unique? Try hanging white light strands to create a curtain effect! How beautiful will that look at dusk and nighttime!
23. Add Extra Lighting For Your Room
If you want to keep it simple but want to have lighting at night when the natural light is no longer available, simply add table lamps on either side of your ledge. Again, you'll get a simple look with additional functional lighting.
Final Thoughts About Bay Window Decorating Ideas
Now you know a little bay window history, the beauty these windows add, and exciting decorating ideas to try for every type of bay window! Which ideas inspire you most? We encourage you first to shop your home, visit antique malls, then add in brand new pieces. Professionals often use this interior decorating skill to create the cozy, dreamy, "straight out of a magazine" home decor looks you find. Happy Decorating!
Here at That Sweet Tea Life, we strive to bring you the best information for decorating, transforming old into new, and creating crafts you can proudly show off and display.