Hi, and welcome to That Sweet Tea Life!
At That Sweet Tea Life we like to slow things down, enjoy the little things, and create things that we love.
I'm Ryan Cunningham and I am a father of 7 kids and have been running a painting business for nearly 20 years.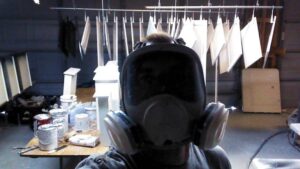 When I first started painting, I did lots of new construction and quickly found that I really liked slowing down and working on high end projects.
In 2009, a luxury home that I was working on won awards in the Midwest Luxury Home Tour for best interior, best exterior, best kitchen, and best bathroom. All of which I worked on for months.
In 2010 when the new housing market had officially crashed, I went from finishing new homes to refinishing kitchen cabinets and painting furniture.
Since then I have painted over 200 sets of cabinets with every finish imaginable and done furniture for clients all the way up to high end hotels in the Minneapolis area.
However, what I really enjoy is slowing down, taking my time on a finish and being creative. Sometimes this means I make almost no money on a project and other times it means it turned out ugly (I'm not the best at choosing colors). But I enjoy it.
Hopefully I can share with you some of what I have learned over the years and you can share with me some better color combinations!
Please reach out and say hi if you get a chance! I love hearing from readers.
If you are looking for info about house painting, check out my site all about interior and exterior painting at DIY Painting Tips.