There is a right way to use black furniture. In fact, there are dozens of "right ways." All you have to do is know how to use it. The result will be striking and elegant pieces instead of ones that make your space feel gloomy.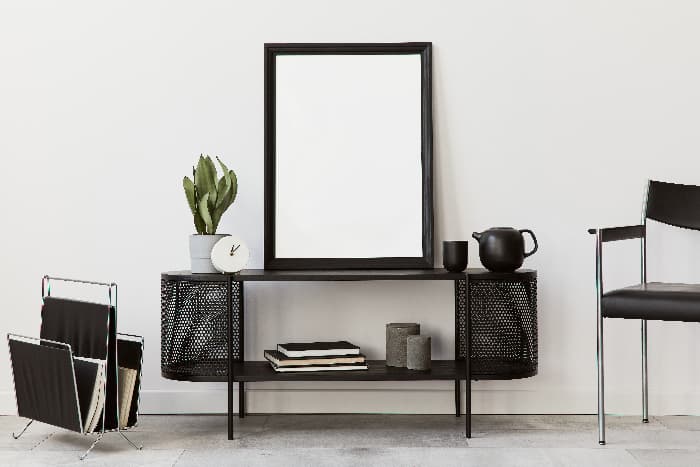 When you hear the words "black furniture," you might have some mixed feelings. Black furniture has a reputation for being ugly or filling a room in all the wrong ways. It can make you feel like you're drowning in big blocks of dark color. It can also suck up the light from a room, leaving it feeling dark and depressing.
Here are 30 ways to do black furniture the right way and transform your space for good.
"Distressed" is a popular style at the moment, and it is perfect for everything from bookshelves to tables, chairs, couches, and more. For DIYers, it means that you can put it together in almost no time at all.
This distressed black bookshelf features a couple coats of paint and an unfinished back. If you do it the right way, it looks deliberate instead of sloppy — which is exactly why it's remained so popular!
One of the best ways to make black furniture shine is by pairing it with natural wood. This entryway table has a stark black base topped with a shiny wood piece. The homeowners have also done a great job decorating in a way that sets the paint job off well. It's a perfect statement piece that catches the eye right when you walk into the house.
Black furniture doesn't have to be painted wood. It can be any material. Don't forget that metal is a great choice for furniture either inside or out. It gives a crisp, modern feel to the room while staying homey and comfortable.
These metal cafe chairs are topped with natural wood seats to add some warmth, ensuring the room feels like a home, not an airport.
Coffee tables come in every size, shape, color, and material you can think of. A great coffee table ties your living room together and sets the tone.
Just take this stylish, modern coffee table. Its black exterior and unique shape are eye-catching. It also has several convenient storage spaces that break up the piece so you don't have a solid wall of black.
Black is a great color because you can dress it up or down. A couple of quick coats can create a cute distressed look. Meanwhile, thick, shiny paint with gold accents can turn a simple bed frame into one fit for royalty.
If you want a bedroom that drips elegance and refinement, a piece like this is a great way to do it.
Everyone needs a good place to put their feet up — and that's the perfect way for you to add some accents of black in your house!
These black knitted poufs also give you the chance to play with black fabric, rather than wood or metal. They also add some texture, which can set your room off in a unique way.
With its shiny black drawers and gleaming gold legs, this dresser might as well be straight from a castle. It looks sleek and elegant, the perfect statement piece for anyone looking to make their bedroom feel luxurious. If you love elevated, opulent styles, a piece like this is a must-have.
We never said that your black furniture had to be solid black. If you think that solids will be too overwhelming, try going with something like this daisy-patterned couch. You get the classically elegant look of black and white without the big blocks of color soaking up too much light.
You can achieve completely unique looks with black accents contrasted with light or dark wood or alternate colors and materials. This black metal bed frame contrasts beautifully with a dark wooden head- and footboard for a rustic yet modern look.
Black can serve as a striking background for prints or paintings. These floral furniture transfers and gold accents are very pretty on their own. But against a black paint job, they are absolutely breathtaking. It is a simple but elegant way to make a piece of furniture that really stands out.
If you love a whimsical look, try a piece of furniture like this black and white striped chair with a gold frame. It just goes to show that black doesn't have to mean big blocks of dark color. It can just as easily mean playing with fun patterns and contrasts.
This fun footstool contrasts a black base with a patterned black and white
This striking end table uses a simple black base with a festive, sparkling top. If there was ever a party made into furniture, it would be this.
Sometimes all it takes to make a piece of furniture pop is a simple accent. This dresser uses black paint as a base with a striking olive accent in the shape of a diamond. This one uses an olive tone, but it could be just as beautiful with almost any other color.
Talk about a table that doubles as a statement piece. Guests won't be able to look away from this eye-catching table. The design combines a shiny deep black epoxy with bright, almost firey wood inlay.
Don't forget that your porch needs furniture, too. This is the perfect place to do a black color theme, since it lets you incorporate weather-resistant metal pieces. But this hanging macrame chair is another beautiful piece that is comfortable and stands out.
Coffee tables come in all shapes and sizes, and a low circular one can make your living room feel relaxed and cozy. It is perfect for sitting on the floor and spreading out with your cup of tea right at hand. The shiny black paint makes it ultra unique.
Wood is a beautiful material, but it's far from the only one suited for your home's furniture. These black metal dining chairs are stylish and modern, bringing a bit of a polished vibe into your home. They are perfect for anyone who wants a unique dining area.
This might just be one of the most unique and beautiful ways to incorporate black into your furniture — not through paint, but through charring! This burned oak table adds a look that we're all familiar with, but not usually outside a campfire. The sleek metal legs complete the look perfectly.
If you thought lofted beds were only for college dorms, think again. They are a great way to use limited space. If you have several kids in one room — or if you think lofted beds are for grown-ups, too — a sleek lofted bedframe like this is an ideal choice.
Barstools are a fun way to mix up the look in your kitchen. But they don't need to be the garish colors of a 1950s diner. You can make them into elegant pieces, like these tall black bar stools that fit perfectly under your table or counter.
A black sofa not only looks amazing, but can also be a convenient way to keep your furniture looking fresh and clean. If you don't want to shell out for an entirely new couch, try a black slipcover. These are significantly cheaper and can be thrown in the wash whenever they get dirty.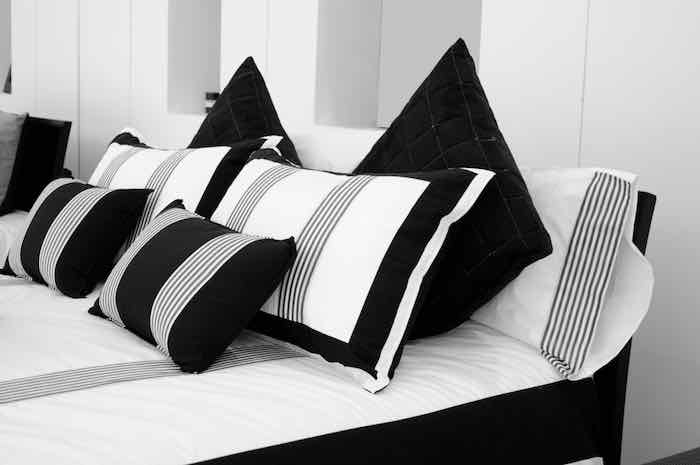 We're not sure if pillows technically count as furniture, but they are a must-have in any house. They're also a great way to accent your color scheme in a minimal but eye-catching way. These black and white pillows offer a classic palette that doesn't overwhelm.
Again, do ceiling lights count as furniture? Regardless, they offer a chance to sculpt your space and radically change the way it looks, for better or for worse. These gorgeous black Nordic ceiling lights are especially striking as the only dark color in the room.
A good pouf is a great accent piece for any living room or bedroom. You'll find them in every color, pattern, and material you can imagine. If you want to add a bit of black to the room, a small piece like this one can be a great way to do it. It is subtle and attractive so you don't overwhelm with that darker palette.
Black furniture and decor has a way of looking especially clean, sharp, and elegant, which is perfect for a space like the bathroom. A bathroom wall sconce like this one adds some interest to your bathroom wall that looks great even in a small space.
If you have an entryway, you need a piece that will draw the eye the moment someone steps into your home. Of course, for a space like that, it should also be practical. This natural wood top entryway bench is the ideal choice, since it combines practicality and style in an incredibly unique way.
The right furniture can transform your patio into a comfortable place to sit with family or friends, especially during the summer. You want this furniture to be comfortable, stylish, and practical enough to withstand the elements like heat and rain. Black furniture like metal can be a great choice for this space.
Maybe we're stretching the definition of black furniture by including a bathroom light on our light, but how could we not? A stunning piece like this will absolutely make your bathroom pop. It is a simple but stunning way to transform your space, no matter how big it is.
If we've said it once, we'll say it again — you can't go wrong with black furniture on the porch. Your porch is the first thing that any guest sees when coming into your home, so it should be beautiful and make a statement. This metal porch rocker is a perfect example of using black furniture on the porch the right way.
For even more home decor inspiration, click here!